Analysis
March 14, 2018 © Leeham News: Boeing is unlikely to face retaliatory tariffs from China following President Trump's imposition of tariffs on China's steel industry.
LNC believes China's own self-interest for its airline, leasing and aerospace industry would make imposing tariffs on Boeing counter-productive.
Several media reports this week raise the prospect of China retaliating against Boeing, including these at CNBC and The New York Times. Boeing stock is off $10 or 3% in mid-day trading.
No tariff
LNC believes China won't impose retaliatory tariffs.
China accounts for about 5% of Boeing's identified backlog but the total is believed to be much higher when Unidentified customers are included.
Any tariffs would harm the Chinese airlines and lessors that ordered Boeing aircraft. Boeing also will open a 737 finishing center near Shanghai this year. Tariffs would hurt this facility. China is also a supplier on various Boeing aircraft.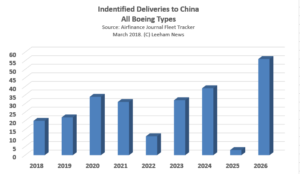 If China retaliates with tariffs, LNC believes it will be on other industries. Europe, for example, announced it will retaliate by imposing tariffs on the Harley Davidson motorcycle, Kentucky bourbon and Levi jeans.
Harley Davidson is headquartered in Wisconsin, the home state of Republic House Speaker Paul Ryan. Kentucky is the home of the Senate Majority Leader, Republican Mitch McConnell. Levi's is headquartered in San Francisco. House minority leader Nancy Pelosi, a Democrat, represents this area.
No orders?
If China were to retaliate against Boeing, it would more likely be in freezing new orders for an indefinite time, placing them with rival Airbus instead.
The Chinese government routinely uses orders to send political messages.
Deferrals and cancellations in the near-term are unlikely. With a full Airbus backlog, the Chinese airlines and lessors couldn't turn to Airbus for deliveries before the next decade. Any cancellations or deferrals in the next decade are too far out to be meaningful.