By Bjorn Fehrm
July 31, 2019, ©. Leeham News: Airbus announced its 1H2019 results today, presenting a solid first half with progress in A320neo and A350 deliveries. The A220, brought over from Bombardier, is also making progress.
Yesterday, Airbus could announce an MOU with Air France for 60 A220-300. When converted to order it brings the orders for the type above 600. The A220 is gradually becoming a good deal for Airbus, and the type an important part of its lineup.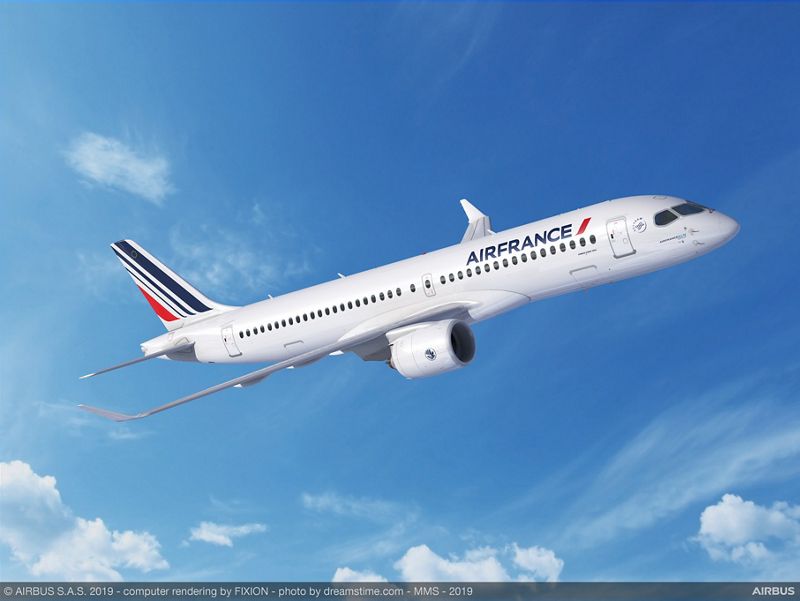 Progress on several fronts
Airbus' revenue for 1H2019 was €30.9bn (€25.0bn 1H2018) with EBIT at €2.5bn (€1.2bn). The increase in revenue reflects the integration of the A220 in Airbus. The increase in EBIT is because of good A320neo deliveries and the A350 not consuming money any longer. The A220 is still in its money consuming ramp-up during 2019.
Guidance for 2019 remains at 880 to 890 aircraft deliveries with profits around €5bn, but it could be impacted by "growing trade tension" and a no-deal Brexit. A problem with deliveries of parts to Airbus wing factory in Wales could delay deliveries of Airbus aircraft as wing deliveries get delayed from the UK.
Civil aircraft
Commercial Aircraft, which makes 78% of revenue, had 88 (206 1H2018) net orders and 389 (303 1H2018) deliveries. The backlog is 7276 aircraft. Revenue for 1H2019 was €24.0bn (€18.5bn 1H2018) with EBIT at €2.2bn (€0.8bn).
The highlight is increased A320neo deliveries to 294 units (76 units 1H2018) with its good margins. The ACF version is still a challenge to produce but Airbus is investigating how to increase the production of this type as its variants, A321LR and XLR, are increasing in popularity.
The A350 is also running well with 53 1H deliveries (40 1H2018) and will be cash positive during the year.
The third program with solid progress is the A220 which could deliver 21 aircraft during the half-year, up from 10 last year. For the A220 the market interest is also positive with the recent MOU from Air France and expanded orders from Delta and jetBlue.
The A330neo is getting momentum with an order for 40 aircraft from Emirates in February. The A380 ramp down in going to plan according to Airbus.
Helicopters
Helicopters are still facing a flat market. The unit is maintaining revenue at €2.4bn (€2.4bn 1H2018) with EBIT at €0.1bn (€0.1bn).
Defense and Space
Defense and Space increase revenue to €5.0bn (€4.7bn 1H2018) with EBIT at €0.2bn (€0.3bn). The highlight was an agreement with the Customers around the re-baselining of the A440M program after protracted negotiations.