By Bryan Corliss
Dec. 13, © Leeham News: Boom Supersonic announced this morning that it will team with three partners, including a division of GE, to create engines for use specifically on its proposed Overture passenger transport.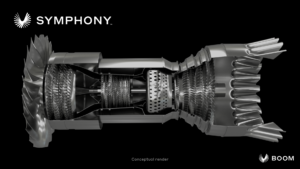 "Developing a supersonic engine specifically for Overture offers by far the best value proposition for our customers," Boom founder and CEO Blake Scholl said.
The partners are:
Florida Turbine Technologies, which will design the engines;
GE Additive, which will consult on ways to fabricate engine parts through additive manufacturing technology; and
StandardAero, which will be Boom's MRO partner and will consult on making the engines easy to maintain.
The announcement didn't specify who will fabricate the engines, or where they will be built. It did note that Standard Aero has experience assembling and servicing supersonic engines for the military. Boom has not yet responded to a request for clarification.
Summary
Major engine manufacturers had passed on Boom
Engines could include additively manufactured components
Significant challenges remain

Major engine manufacturers had passed on Boom
The engine — dubbed "Symphony" — will be a medium-bypass turbofan with basic architecture similar to standard commercial jet aircraft engines, Boom said.
However, the new engines will include a Boom-designed axisymmetric supersonic intake, a variable-geometry low-noise exhaust nozzle and a passively cooled high-pressure turbine, the company said.
The announcement comes after all the major North American engine manufacturers already had passed on the project. As previously reported by LNA, Rolls Royce, Pratt & Whitney and GE's aerospace division all  said they either weren't interested in partnering with Boom, or had other priorities.
The engine designer for the Symphony project will be Florida Turbine Technologies. According to it's LinkedIn page, it's a 200-person engineering firm in Jupiter, FL, and a business unit of Kratos Defense & Security Solutions, which acquired an 80% stake in the company in 2019.  Boom says its workforce includes engineers who worked on designing the supersonic engines for F-22 and F-35 fighter jets. However, the Kratos website indicates its Turbine Technologies unit's main products are small engines for drones and cruise missiles, and pumps and other equipment for liquid-fuel rocket engines.
The design team "has a decades-long history of developing innovative, high-performance propulsion solutions" and is "proud to team with Boom and its Symphony partners … to develop the first bespoke engine for sustainable, economical supersonic flight," according to a statement from Florida Turbine Technologies President Stacey Rock.
Engines could include additively manufactured components
While GE Aerospace has passed on the Boom project, another GE unit — GE Additive — is going to take part. GE Additive's role will be to design engine components that will be fabricated using additive manufacturing technology, which Boom says will streamline development, reduce weigh and improve fuel efficiency.
There might be a bigger role for GE in the future, according to a statement from Chris Schuppe, the general manager for engineering and technology at GE Additive. He said his unit will provide "additive manufacturing design consulting and technology, while looking for additional areas to potentially collaborate."
Standard Aero is an MRO provider based in Scottsdale, AZ, with service teams across the United States and in the United Kingdom. It says its technicians work on engines and APUs powering commercial and regional aircraft.  It also does maintenance on P&W F-135 engines that power F-35s flown by the Dutch air force, and GE F-110 engines that power fourth-generation fighters including F-14s, F-15s and F-16s.
That "experience assembling and servicing supersonic military engines makes us the intelligent solution for future commercial, supersonic MRO applications," StandardAero Chairman and CEO Russell Ford said.
Significant challenges remain
Boom says it will begin production at it's Greensboro, NC, factory in 2024, with rollout set for 2026 and first flight in 2027. It expects to achieve type certification in 2029.
As LNA has reported before, Boom faces major headwinds, including cash flow, regulatory issues (particularly around noise), less-than-firm orders and serious environmental concerns. Operating costs could also be a factor, if Boom utilizes expensive and scarce sustainable aviation fuels to meet its low carbon emissions targets, and  the physics of thrust and noise will be hard to overcome.
But Boom says the new engine will operate at net carbon zero and meet the International Civil Aviation Organization's Chapter 14 noise levels. The company also projects lower engine maintenance requirements, which will cut operating costs by 10%.
"Through the Symphony program, we can provide our customers with an economically and environmentally sustainable supersonic airplane," Scholl said. That's "a combination unattainable with the current constraints of derivative engines and industry norms."
Boom has announced orders and options for 130 jets. American Airlines this year put down deposits on 20 Overtures, and has options on 40 more. United has put money down on 15, with options for another 35.