June 30, 2020, © Leeham News: Airbus held a press call with its CEO Guillaume Faury today, where he elaborated on Airbus announced "COVID-19 adaptation plan".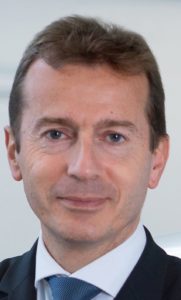 Over the next 12 months, Airbus needs to reduce its airliner business workforce with 15,000 positions worldwide. Other parts of the company like Helicopters and Defence and Space are not affected by this plan.
Redundancies are not ruled out, but Airbus will work with its social partners to limit these by using available social measures such as voluntary departures, early retirement, and long term partial unemployment schemes offered by governments.
Background to the measures
Faury explained the background to the plan:
"Airbus is facing the gravest crisis this industry has ever experienced. Our business in the civil airliner business has reduced with 40%, and we expect this to remain the level for the next two years. Then, in 2022 we think there will be an uptake in single-aisle business. Widebody deliveries will take longer to recover, perhaps until 2025. Today's announcement is our longer-term adaptation to the lower demand. There is no further adaptation of our announced production rates because of this. Our initial estimate from April was pretty good. It took single-aisle from rate 60 to 40, A350 from 9.5 to six, and A330 from 3.5 to two. We expect this to be the level for the coming months. Airbus is always adjusting the rates to the actual situation, so there will be smaller adjustments going forward, but these are the levels we work from."
Faury emphasized the announced losses in positions are the direct job losses from the lower production rates extending over several years. Every possible mean will be used to avoid redundancies. He is especially pleased with the support from the French and German Governments offering extended Government-sponsored furloughs. "Our workforce is a specially trained and skilled asset. When the market comes back, and we expect it to, then we can cut down on these furloughs and be ready for the uptick. We will rotate the furloughed people, so they don't lose their skills. We are very pleased this tool is available to us in this crisis."
Details of the announcement
Airbus gave a detailed account of the reductions in its press release:
Following the in-depth analysis of customer demand that has taken place over recent months, Airbus anticipates the need to adapt its global workforce due to COVID-19 by approximately:
5,000 positions in France
5,100 positions in Germany
900 positions in Spain
1,700 positions in the UK
1,300 positions at Airbus' other worldwide sites
These figures include the Airbus subsidiaries Stelia in France and Premium AEROTEC in Germany. However, they do not include approximately 900 positions stemming from a pre-COVID-19 identified need to restructure Premium AEROTEC in Germany, which will now be implemented within the frame of this global adaptation plan.
Airbus has started the consultation process with its social partners. Agreements around the measures are expected by the autumn.