By Bjorn Fehrm
March 19, 2021, ©. Leeham News: Embraer presented its full-year 2020 results today. Revenue for 2020 was down 31% at $3,771m versus $5,463m in 2019. The resulting loss was $323m, compared with $77m 2019.
The company managed to stay cash neutral with $2.8bn at exit 2020, the same as when exiting 2019. Due to the uncertainty of how COVID-19 develops during 2021, there was no 2021 guidance.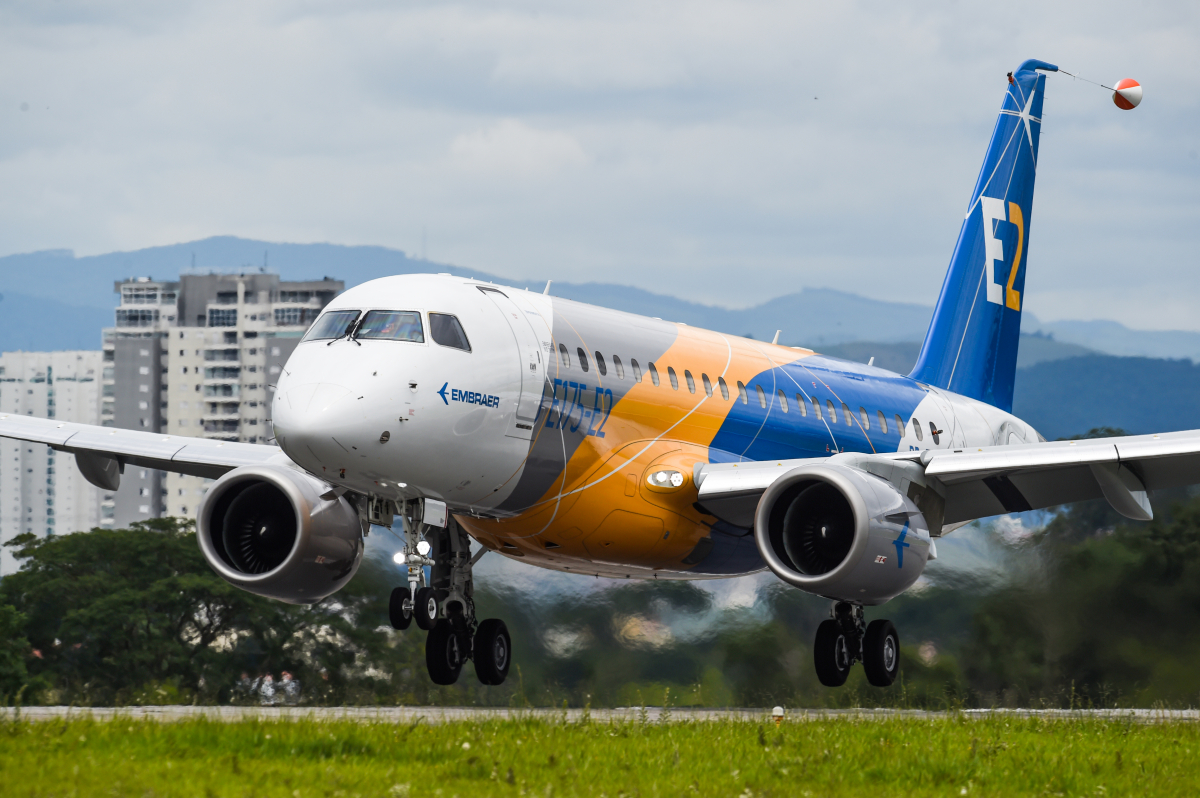 Commercial aircraft
The Commercial Aircraft division delivered 44 E-Jets during 2020 compared with 89 for 2019, Figure 1. The E175 is still the aircraft with more than 10 deliveries, but the rate is less than half that of 2019. Only 11 E2s were delivered during 2020.
Commercial aircraft revenue was down 50% at $1,114m versus $2,234m for 2019. Revenue per delivery is steady at $25m per aircraft.
With the COVID-19 pandemic hitting the airliner industry, the firm order backlog development between 2019 and 2020 is interesting. Backlog 2019 stood at 338 E-Jets, end 2020 down to 281. The E175 delivered 32 aircraft, but the backlog shrunk from 181 to 132 jets, 17 firm orders canceled. The 190-E2 lost five orders while the E195-E2 increased the backlog from 137 to 139 aircraft.
The company is talking with partners to join a 70 to 90 seat turboprop program based on a lightened E-175 fuselage, paired with new wings, engines and empennage. The launch is planned for next year.
Business Aircraft
The Business jet side had its light segment (Phenom 100/300) hold up quite well with 56 deliveries compared with 62 for 2019. The larger jets dropped more at 30 versus 47, Figure 2.
The ratio of margin richer large jets is 35% compared with 43% for 2019. Segment revenue was down 23% at $1,072m versus $1,397m for 2019.
Defense & Security
Embraer has delivered four KC-390 airlifters to the Brazilian Air Force and is preparing five aircraft deliveries to Portugal over the next years. Hungary ordered two KC-390s during 2020 as the second NATO country to buy the type. Segment revenue was up 14% at $654m vs. $576m for 2019.
Services and Support
Services revenue shrunk by 26% at $920m vs. $1,246m for 2019, due to all the grounded aircraft not needing spare parts or service.