By Bryan Corliss
July 1, 2021, © Leeham News: Seattle-area electric aircraft builder Eviation revealed Thursday that it has reached firm design configuration for its battery-powered, nine-seater Alice aircraft.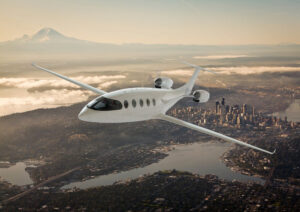 The announcement – which typically would signify that Eviation designers have locked-in design features, so that suppliers can use their drawings to begin work on their components – is more of a formality, however.
Eviation Executive Chairman Roei Ganzarski said suppliers already have delivered shipsets for the first production Alice, and mechanics at the company's Arlington, WA, plant have begun final assembly.
"The plane is being built as we speak," Ganzarski said. The company is on track for a first flight before year's end, he added.
The suppliers include well-known European giant GKN, which is providing the wings, empennage and wiring systems for the plane. But it also includes industry newcomers like Multiplast, which is a French manufacturer best-known for fabricating composite yacht hulls.
Eviation's sister company, magniX, delivered the first motors last month. Both companies are owned by Singapore-based Clermont Group, and Garzinski is both Chairman of Eviation and CEO of magniX.
Design changes
There have been significant design changes since the prototype Alice was unveiled at the 2019 Paris Air Show.
The original plan to power the aircraft with three 350 kw motors has been scrapped in favor of using two 650 kw motors;
The prototype had motors with pusher propellers mounted on the wingtips and tail; the production model has motors with tractor propellers mounted alongside the aft fuselage;
The prototype had a V-shaped tail, which has been replaced with a T-tail for production;
The prototype had tail-dragger landing gear, which has been replaced with a tricycle configuration.
Ganzarski said the changes were driven by customer feedback and were aimed at making the Alice "more applicable and attractive to the operators, so they can more-easily integrate the aircraft into the fleet."
So far, Eviation has only one announced customer, regional airline Cape Air, based in New England, which has said it wants 92 Alices.
The Alice was designed with a range of up to 650 nautical miles (1,200 km) on a single charge, with a cruise speed up to 260 knots (480 km/hour), using current battery technology.
It's not "potential, maybe, future batteries from a company that may go bankrupt," Ganzarski said.
The battery technology is improving, however, he said, driven mostly by innovation in the electric car industry. Ganzarski said the performance of the batteries in Eviation's flying testbed – a de Havilland Beaver floatplane operated by Canada's Harbour Air – has improved more than 33% in 18 months of tests, through a combination of battery upgrades and learning how to better arrange them within the aircraft.
Eviation's announcement is a sign that change is coming to an industry segment that's produced a lot of press releases but few actual flying machines, Ganzarski asserted.
"It's a huge step in that you look around at electric aviation and you see a lot of cool CGI graphics and quote-unquote 'orders," but you don't actually see an airplane," he said. "But this is real. It's being built in our hangars in Arlington and we're about to go fly it."