By Bryan Corliss
July 1, 2021, © Leeham News: Seattle-area electric aircraft builder Eviation revealed Thursday that it has reached firm design configuration for its battery-powered, nine-seater Alice aircraft.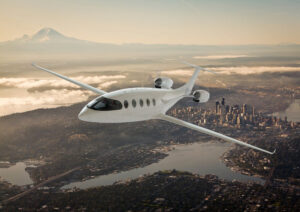 The announcement – which typically would signify that Eviation designers have locked-in design features, so that suppliers can use their drawings to begin work on their components – is more of a formality, however.
Eviation Executive Chairman Roei Ganzarski said suppliers already have delivered shipsets for the first production Alice, and mechanics at the company's Arlington, WA, plant have begun final assembly.
"The plane is being built as we speak," Ganzarski said. The company is on track for a first flight before year's end, he added.