July 18, 2018, © Leeham News, Farnborough: Mitsubishi's MRJ will be supported even if Boeing and Embraer complete a deal to form a new company in which Boeing is an 80% shareholder.
Embraer's E175 and E190 jets will compete with Mitsubishi's MRJ70 and MRJ90 respectively. Boeing entered into a product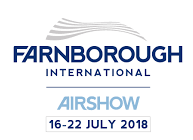 and parts support agreement with Mitsubishi when the MRJ program was launched.
Stan Deal, CEO of Boeing Global Services, said in an interview with LNC that despite the competition, BGS will honor the Boeing commitment to Mitsubishi.
BGS already supports Airbus aircraft, which of course fiercely compete with Boeing.