By Scott Hamilton
Sept. 7, 2021, (c) Leeham News: My book, Air Wars: The Global Combat Between Airbus and Boeing, is now available on Amazon.
Three years in the making—delayed by the need to include the Boeing 737 MAX crisis and the impacts of Coronavirus—Air Wars is a combination of a biography of John Leahy and the 1982 book, The Sporty Game. The Sporty Game was considered the definitive book about the competition between Boeing, McDonnell Douglas and the young Airbus.
Leahy worked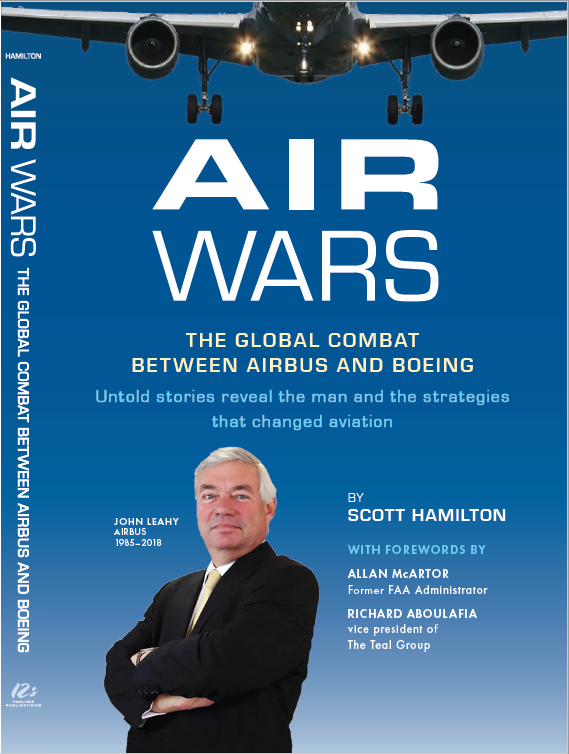 for Airbus for 33 years, 23 of them as the chief commercial officer for the company. Throughout executive turmoil at Airbus, and at Boeing, Leahy was the one constant salesman. Boeing officials were slow to recognize the threat Airbus and Leahy presented. The wake-up call, according to a top Boeing salesman at the time, was the 1992 order from United Airlines for Airbus A319s and A320s. United considered the airplanes superior to the 737-300/400. The order prompted Boeing to develop the 737 NG. From there, the global combat became a "bare-knuckle brawl," as journalist Dan Catchpole put it this week.
Executives and salesmen from Airbus and Boeing were interviewed for Air Wars. So were industry leaders. My own archival resources and reporting were used as well.
The result is a book that describes the successes and failures of Airbus, Leahy, and Boeing. It describes how Bombardier came out of nowhere to become a threat initially dismissed by Boeing—but recognized by Airbus. Air Wars describes the sales campaign that launched the A380 and killed the proposed 747-500/600—but led Boeing to the 787.
Air Wars begins with the crucial sales campaign with American Airlines that led to the decision by Boeing to launch the re-engined 737 program—which later was branded as the 737 MAX. The book also dispels the myth that Boeing was hasty in designing the re-engined 737.
Many untold stories are in Air Wars, including sales campaigns, product strategy decisions and personal anecdotes about Leahy—including how McDonnell Douglas tried to recruit Leahy from Airbus in the early 1990s.
A synopsis of the book is below.