Turnaround Time: United an Airline and Its Employees in the Friendly Skies, by Oscar Munoz with Brian DeSpinter. $32.00. Available on Amazon and other outlets.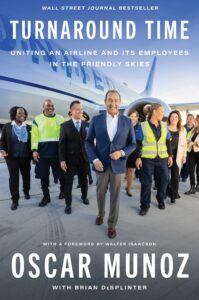 July 25, 2023, © Leeham News: Oscar Munoz had been the chief executive officer of United Airlines only about a month when he suffered a massive heart attack that almost killed him. His heart was in such bad shape that he needed a heart transplant.
Munoz was an executive of the railroad company CSX, and on the UAL Board of Directors, scandal erupted at United. Jeff Smisek, the CEO who took over United from the same position at Continental Airlines when UAL and Continental merged in 2010, had agreed to add service between Newark (NJ) and a South Carolina city to appease an executive of the Port Authority of New York and New Jersey. The Port owns and operates Newark (and New York's LaGuardia and JFK airports). The emerging scandal led to the removal of Smisek, and others involved.
Munoz was a reluctant and somewhat odd choice. He had no airline experience, other than being on the Continental and later United boards of directors. He was in line to become CEO of CSX. He initially turned down being considered for the United CEO position when approached by a fellow UAL Board member. But with the Port Authority scandal, and a broken United which had not fully integrated the merger with Continental, he relented.
Munoz tells his story in Turnaround Time: United an Airline and Its Employees in the Friendly Skies. This newly published book is a combination of an autobiography and the turnaround of a troubled United.