Turnaround Time: United an Airline and Its Employees in the Friendly Skies, by Oscar Munoz with Brian DeSpinter. $32.00. Available on Amazon and other outlets.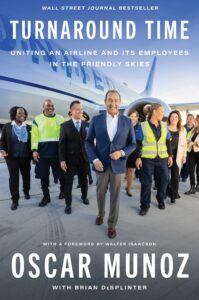 July 25, 2023, © Leeham News: Oscar Munoz had been the chief executive officer of United Airlines only about a month when he suffered a massive heart attack that almost killed him. His heart was in such bad shape that he needed a heart transplant.
Munoz was an executive of the railroad company CSX, and on the UAL Board of Directors, scandal erupted at United. Jeff Smisek, the CEO who took over United from the same position at Continental Airlines when UAL and Continental merged in 2010, had agreed to add service between Newark (NJ) and a South Carolina city to appease an executive of the Port Authority of New York and New Jersey. The Port owns and operates Newark (and New York's LaGuardia and JFK airports). The emerging scandal led to the removal of Smisek, and others involved.
Munoz was a reluctant and somewhat odd choice. He had no airline experience, other than being on the Continental and later United boards of directors. He was in line to become CEO of CSX. He initially turned down being considered for the United CEO position when approached by a fellow UAL Board member. But with the Port Authority scandal, and a broken United which had not fully integrated the merger with Continental, he relented.
Munoz tells his story in Turnaround Time: United an Airline and Its Employees in the Friendly Skies. This newly published book is a combination of an autobiography and the turnaround of a troubled United.
Nearly fatal heart attack
When Munoz became CEO, he faced an airline that was dysfunctional and had poor employee morale. He began a tour of the airline's system, speaking to and meeting with employees as a priority to regain their trust and address their concerns.
Munoz was just a month into his new position when he collapsed in his Chicago apartment with a nearly fatal heart attack. He was an unlikely candidate for this medical condition. Trim, a regular jogger, Munoz had just returned from a run in his Chicago neighborhood when he fell to the floor. He had the presence of mind to dial the 911 emergency number to call the Fire Department. Its Emergency Medical Technicians happen to be a block away. When they arrived, the EMTs found a bleeding Munoz, who hit his head when he fell.
The quick response, medical equipment, and ability to communicate with the hospital saved Munoz's life on the spot. When he arrived at the hospital, the critical nature of the medical emergency became clear. He didn't just suffer a heart attack. His heart was failing. Munoz was put into a medically induced coma while doctors and nurses worked the next week to save his life.
When Munoz was well enough to leave the hospital, with a medical device attached to his heart while he awaited a new heart for a transplant, Munoz worked with his executive team to establish the steps to turn United around into a profitable company with good employee spirit. He was in one meeting when, finally, word came through that a heart was available. He had to be at the hospital within three hours for the operation. Pushing his executives for a vote on which plan to follow, Munoz then rushed to the hospital for the transplant.
Recovery—for Munoz and United
After the operation, Munoz once again had to take it easy while recovering. United's recovery couldn't wait, however. It wasn't long before Munoz faced a revolt from two activist institutional shareholders that he had to fight off.
These shareholders wanted to install Gordon Bethune as chairman. Bethune had been tapped by Continental's Board to turn this airline around. Bethune tapped Munoz to be on that Board. But Munoz didn't want Bethune to be chairman of United. Doing so would send a bad message to the legacy United employees that Continental was the surviving airline in the merger. That Continental was the surviving airline obvious anyway. The Continental livery survived, and the Continental management took over. But Munoz didn't want the symbolism of Bethune being in charge to exacerbate the issue.
Labor negotiations with the major unions had stalled. Munoz had to reach new agreements. United's operations, revenues, and profits trailed rivals American Airlines and Delta Air Lines and had to be fixed. A succession plan, which became so critical with Munoz's heart attack and transplant, had to be created.
Employees came first
Munoz also had a cranky Wall Street to contend with, over and above the dissident shareholders. When he and his executive team decided upon the priorities in the turnaround plan, cost-cutting wasn't the No. 1 priority. Nor was growth, fleet renewal, or even the balance sheet, the usual preferred methods to follow. Instead, fixing the relationship with employees was deemed No. 1.
The message that kept coming out of his executive meetings was, "Regain the trust of our employees," he writes.
"I knew that my employees first strategy would trigger a harsh reaction on Wall Street," Munoz writes. He imagined what analysts would say. "What the hell do you mean you're investing in your employees? How will that boost the stock?" Yet Munoz recognized that happy employees make the company successful. It's a message that should resonate with a certain corporate headquarters in Arlington (VA), by the way.
Then, the COVID pandemic happened.
Munoz takes us through his personal and professional lives and through the turnaround efforts at United. It's a short book—just 205 pages—and it's an easy, worthwhile read.