Subscription Required
By Vincent Valery
Introduction  
July 27, 2020, © Leeham News: Since the first quarter of 2018, Boeing applies a new revenue recognition accounting standard, ASC 606, to its aircraft order book.
As a result, the OEM needs to remove orders from the backlog when a customer deviates materially from its contractual obligations.
ASC 606 adjustments affect all Boeing commercial aircraft programs apart from the 767. Orders removed from the 737 backlogs increased from 183 to 622 between the end of 2019 and June 2020. The figure should rise further as more airlines have strained finances due to the COVID-19 outbreak.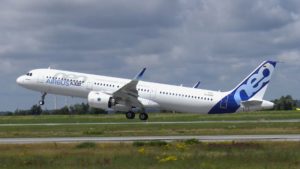 Other aircraft OEMs, notably Airbus, do not apply such standard. As a result, the firm backlogs of Airbus and Boeing aren't apples-to-apples comparisons.
With Airbus reporting earnings Thursday, LNA adjusts the OEM's order book for orders at material risk of cancellation. The goal is to obtain a more representative market share picture.
Summary
ASC 606 Course 101;
Identifying Boeing ASC 606 customers;
Applying adjustments to Airbus' order book;
Estimation of adjusted market shares.