By Bryan Corliss
Analysis
June 11, 2019, © Leeham News: © — A deal by Mitsubishi Heavy Industries to acquire the CRJ program from Bombardier would make abundant sense for Mitsubishi Aircraft Corp –  taking a struggling competitor off the board, acquiring hard-to-find human capital assets, and taking over an established North American American supplier network and a global product support system.
And recent unconfirmed reports that MITAC also is considering a North American final assembly site would make a lot of sense for a company that's looking to cut production costs – and get closer to some likely key customers.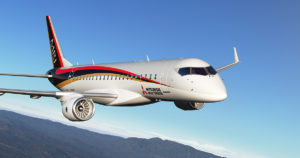 Yet while everyone in the industry is talking about the potential links between MITAC and the Montreal-based CRJ, nobody's saying much about the company's future in Moses Lake (WA). But overlooking Mitsubishi's growth over the past two years there would be a mistake, because the company certainly is acting like it intends to plant roots there in the Eastern Washington farm country.
A North American assembly site would bring significant savings;

Mitsubishi and Bombardier already have close ties; and

Signs point to MITAC settling in at Moses Lake for the long haul.