By the Leeham News Team
May 10, 2022, © Leeham News: Embraer yesterday received its launch order for the E-Jet E1 P2F conversions from lessor Nordic Aviation Capital (NAC).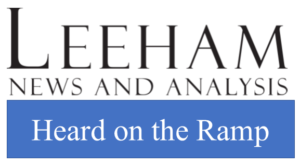 NAC reach "an agreement in principle" to convert 10 E190/195-E1s into freighters. The first deliveries are in 2024. The aircraft are in NAC's current fleet.
The E-Freighters have 50% more volume capacity and three times the range of turboprop freighters (read: ATR) and up to 30% lower operating costs than narrowbodies (read: Boeing 737s), Embraer says. The aircraft will be converted by Embraer at its Brazilian operations. The conversion "includes the main deck front cargo door; cargo handling system; floor reinforcement; Rigid Cargo Barrier (RCB) – 9G Barrier with access door; cargo smoke detection system, including class "E" extinguishers in upper cargo compartment; Air Management System changes (cooling, pressurization, etc.); interior removal and provisions for hazardous material transportation," Embraer says. "The E190F can handle a payload of 23,600lb (10,700kg) while the E195F a payload of 27,100 lb (12,300 kg)."