By the Leeham News Team
Dec. 5, 2022, © Leeham News: United Airlines appears on the cusp of ordering as many as 100 Boeing 787s, multiple news outlets report. Airbus hopes to sell more A350s to United to supplement the 45 already on order.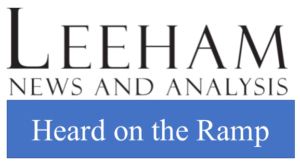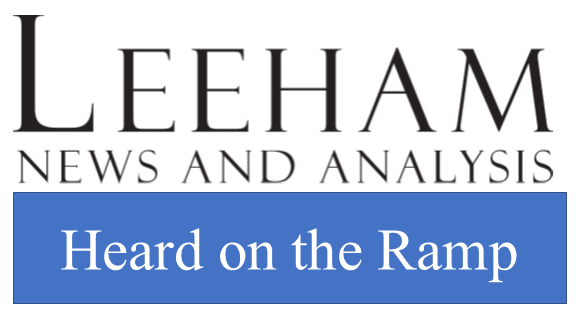 But these 45 A350-900s are an order that has been viewed as iffy since United merged with Continental Airlines. Although ostensibly United was the surviving carrier, in reality, Continental was the survivor. The latter's management displaced United's old management. The livery retained was Continental's.
The A350 order was placed by the old United management. The new executives added to the United order, but Continental had been an exclusive buyer of Boeing aircraft and executives were predisposed toward Boeing. UAL now has 120 Airbus A321XLRs on order. But this came after Boeing couldn't decide whether to launch the New Midmarket Airplane after years of dithering. With a large fleet of Boeing 757s aging and in need of eventual replacement, United could no longer wait for Boeing to make a decision.
United already has a large fleet of 787s. Adding the A350s will provide an extra range that the 787s don't have. But how many routes need the extra range to justify another fleet type?
LNA believes that United can cancel the orders for 45 A350s at little cost. The deposits may easily be applied to orders for more A321s, but cancellation penalties are believed to be de minimis. Based on 2018 list prices—the last ones published by Airbus—United could get about 110 more A321s in exchange for the A350s. (The number is probably a little less since the XLRs are more expensive than the A321neo "standard;" the list price makes no distinction between the sub-types.)
LNA expects United to cancel the A350s sooner than later and add to the A321 order.
Where Calhoun's 10% engine argument misses the mark
Boeing CEO David Calhoun has been clear: he doesn't see a conventional engine achieving greater than 10% in fuel burn and emissions reduction.
Therefore, he says, Boeing won't introduce a new airplane until the middle of the next decade. By then—2035—CFM thinks its new Open Fan RISE engine will be ready for service. This 35,000 lb thrust engine is for a single-aisle airplane, a concept assumed to replace the 737 MAX.
A 10% improvement over today's current generation CFM LEAP and Pratt & Whitney Geared Turbo Fan may or may not be enough to prompt airlines to replace the MAX and A320neo families. (There are significant improvements to the airframe and wing that can add double-digit savings for a combined 20% or more economic gain, but LNA already wrote about this.)
The debate centers entirely around the perceived need by many that the 737-10 MAX is a poor competitor against the Airbus A321neo and its long-range subtypes, the A321LR and A321XLR. LNA has carefully analyzed these airplanes and it's true the MAX 10 falls short vs the A321LR and A321XRL. But compared with the A321neo "standard," the MAX 10 holds its own. Boeing's argument that the LR and XLR account for only 5%-10% of the 200+ seat single-aisle market is spot on. The MAX 10 otherwise competes well with the standard A321.
But all this misses the point.
Compare a new airplane vs the 767-300ER and the 757. The latter is out of production and the former, as a freighter, must cease production at the end of 2027 under new emissions standards adopted by ICAO and in process of being adopted by the Federal Aviation Administration. LNA's analysis of the NMA's economics, based on what today's NMA concept includes, concludes that the 767 replacement would be about 23% more fuel efficient than the 767 with about 15% lower cash operating costs. The NMA would about equal the operating costs of the 757-300. (Cargo revenue potential gives the NMA better economics than the 757-300.)
But Calhoun once again paused new airplane R&D spending. Work continues on the 777-8F and 787 Increased Gross Weight models. Work continues on the prospect of a 787F. But the focus now is on getting production rates of the 737 and 787 back to pre-pandemic levels. R&D spending is prioritized to advanced manufacturing, digital design, and related production efficiencies.
Going down the ecoAviation path
Boeing also continues to invest in ecoAviation technology. Officials are placing their bet on Sustainable Aviation Fuel (SAF). For big airplanes, hydrogen is the other feasible if challenging option. Boeing continues to spend R&D on hydrogen-related technology. But Calhoun dismisses hydrogen, noting that Boeing has tested this in the past.
But is Calhoun focused on hydrogen at Boeing's peril?
Airbus can match Boeing on SAF, so there is no advantage Boeing can achieve using this technology. Hydrogen is where Airbus is focusing. Officials target 2035 for entry into service of a commercially viable hydrogen airplane. Hydrogen is also where Embraer is placing a lot of emphasis. Officials today expanded their thinking on Energia, a program of four alternative energy airplanes, including hydrogen. Although each is 50 seats or less, Embraer targets 2035 for a commercially viable airliner.
Embraer is well known for its creativity, forward-thinking, and efficiently taking a concept from development to EIS. Airbus surpassed Boeing in innovation and offering a broad product line. If these two companies see a path forward for hydrogen (though admittedly there are obstacles and challenges ahead), where is Boeing's innovation? And when is Boeing's innovation?
To be sure, Boeing has a long way to go to get its house in order. Officials are now content to push its current product line. And they are content with a 40% market share in the single-aisle market. But while Boeing is okay with its status quo, Airbus and even the much smaller Embraer are focused on the future.
---
Christmas shopping?
Christmas is just around the corner. Boeing is content with its status-quo product line. Airbus and Embraer are looking toward the future. How did Airbus overtake Boeing as the world's No. 1 aircraft producer and innovator? Air Wars, the Global Combat Between Airbus and Boeing, by LNA editor Scott Hamilton, tells how. Air Wars looks at 35 years of sales and product strategy combat between the two companies.
Here's what reviewers say about Air Wars.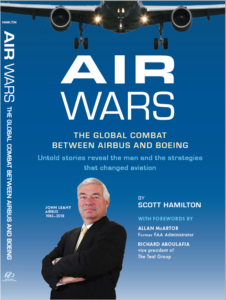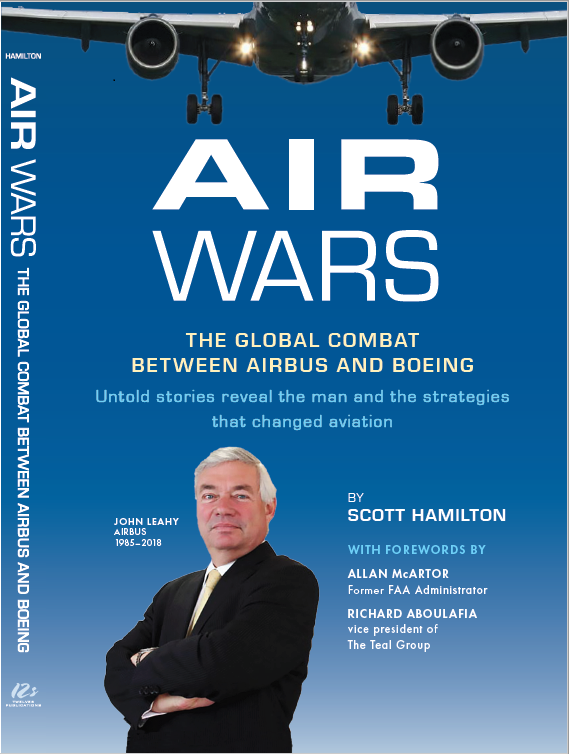 Royal Aeronautical Society
Named to the Top 10 List of Aerospace Books for Christmas Choices, 2021
Puget Sound Business Journal
(Seattle area.) No. 1 on the Christmas list of aerospace books for 2021.
BookAuthority
No. 1 on its list of Best New Aerospace eBooks to read in 2022.
Chris Sloan, The Airchive
"A worthy successor to 'The Sporty Game,'" the 1982 book by John Newhouse, considered at the time to be the definitive book about the competition between Boeing, McDonnell Douglas and the emerging Airbus.
Jim Sheehan, Aviation Industry Consultant
There is so much model and OEM information that it is for sure going to become required reading for anyone who wants to understand the last fifty or so years of commercial aviation.
Loved all of the quotes and stories.
Dan Catchpole, Aviation Writer
Air Wars is a tour de force look behind the curtain of Boeing and Airbus' global competition and, in part, a biography of Airbus' head salesman, John Leahy, the man who forced Boeing's hand to re-engine the 737. Longtime aerospace analyst and journalist Scott Hamilton takes readers through the twists and turns of the decades-long battle between the two companies.
Dan Reed, Aviation Writer
Using John Leahy's long and monumental career as a vehicle for telling readers about the 51-year battle between Airbus and Boeing is both an interesting and inspired choice by the author.
Air Wars is available in paperback and eBook form at Amazon and in paperback at Barnes & Noble.