By Scott Hamilton
June 24, 2022, (c) Leeham News: There is no change to the Scope Clause in the new United Airlines pilot contract governing the number of regional jets that can be operated by regional partners, LNA confirms.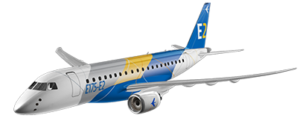 There is also no change in the weight of the aircraft allowed, a blow to Embraer's hopes for the E175-E2. The E2 is heavier than the E175-E1, which entered service in 2004. Embraer designed the E2 to be used with the Pratt & Whitney GTF engine. The GTF is more economical than the E1's GE CF34, quieter, and emits fewer emissions. But it is slightly heavier than the Scope Clause contracts permit. The USA is virtually the only market for the E175-E2.
Embraer halted E175-E2 testing
Embraer completed a prototype E2, but the flight testing program was put on ice during the COVID pandemic and the entry into service was reset from 2021 to 2027 because Scope wasn't likely to change. And it wasn't at United. United was the first carrier to negotiate a new agreement with pilots. American Airlines also negotiated a new agreement, following UAL. There were no changes to Scope weights, either. UAL's union, ALPA, only today confirmed no change to its contract. It is now highly unlikely Delta Air Lines or Alaska Airlines, whose pilots are also represented by ALPA, will change.
Refusal to allow the E2 to be operated by regional carriers is a major blow to Embraer. It's also a blow to the green movement. Embraer has been forced to keep the E175-E1 in production for the US market. While the E2 is environmentally preferred to the E1, United's Master Executive Council of the union says the Boeing 737 MAX is preferred to the E2 as a better choice for a more environmentally preferred airplane. (The MAX is also operated by mainline United pilots, the union's preferred choice.)
Embraer's E195-E2, which can carry a maximum of 144 passengers, and the E190-E2 (up to 110 passengers) don't qualify under Scope for regional operators. The E190-E2 has few sales. Embraer struggles to sell the E195-E2 in competition with the Airbus A220.