The SpaceJet impact on MHI's finances
Subscription Required
By Vincent Valery
Introduction  
May 17, 2021, © Leeham News: Mitsubishi Heavy Industries (MHI) officially launched the Mitsubishi Regional Jet (MRJ) program on March 28, 2008, at the end of its 2007 fiscal year. The Japanese industrial conglomerate envisioned the maiden delivery in 2013.
Fast forward 13 years, and the now-called SpaceJet development has been "paused" indefinitely. Most believe MHI effectively canceled the program. There is a possibility MHI might never bring the SpaceJet into passenger service.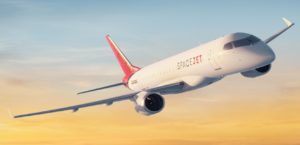 LNA investigated MHI's financial statements since 2005 and annual reports since 2007 to understand the impact of the program on the Group. This article takes a deep dive into the sequence of events, from launch to the COVID-19 pandemic, that led to the current state of affairs for the SpaceJet program.
Summary
Becoming an OEM at the peak of the commercial aviation cycle;
Repeatedly shifting program timelines;
Solid MHI balance sheet funds project;
COVID-19 pandemic tips balance after significant investments;
A SpaceJet in limbo.
To read the rest of the article Login or Subscribe today.