Aviation Author and Boeing: Clive Irving, who wrote a book about the Boeing 747 and who is a prolific aviation writer, has a long piece about his experiences with Boeing over several decades. This thing-piece laments the changes to Boeing that occurred since the 1997 merger with McDonnell Douglas. It's interesting perspective.
787 Grounding Timeline: A professor with MIT suggested the Boeing 787 could be grounded for a year. A 787 operator we spoke with says, "that's bullshit." Although the operator is as much in the dark as anyone else as to the cause of the JAL fire and the ANA smoking battery, his belief is that the airplanes could return to service as early as sometime next month. But he doesn't really know.
Returning the 787 to service may be a bit of a problem for the FAA. It won't do so until it is 1,000% assured the airplane is safe. We shuddered at the statement. We're old enough to remember the disastrous 1972 presidential campaign of Sen. George McGovern (D-SD) against Richard Nixon. McGovern picked Missouri Sen. Thomas Eagleton as his VP. Within days, it was revealed that Eagleton had suffered depression and underwent electroshock treatment.
McGovern said he was 1,000% in support of Eagleton. Days later, he dumped Eagleton and replaced him with Sargent Shriver. McGovern lost in a landslide.
Tell us how anything can be viewed as "1,000%" safe, or "1,000%" anything. We spoke with an engineer for a supplier on the 787, who told us that in engineering terms, they calculate the odds of something happening in some gobbledygook (to us) of something like one in 10th to the minus ninth power, or some such thing we haven't a clue what it means–except that the odds against something happening are pretty darn long.
(If the preceding paragraph seems muddled, welcome to the club.)
Having stated that the 787 won't be returned to service until the FAA is 1,000% sure it's safe, how, then, can this silly thing be fulfilled? The answer, of course, is that it can't, but the hyperbolic statement was made. Boeing, according to our information, is working on (and proposed) a series of interim steps to return the airplane to service, including inspections and checklists. Initially, we're told, the FAA rejected this. Can Boeing come up with something acceptable? This remains to be seen. But more to the point, has the FAA painted itself into a corner?
Well, is this a government operation or is the Pope Catholic, or what? While we think that after the back-to-back battery incidents putting the 787 on the ground was prudent, we hope scientific reasoning rather than face-saving actions prevail going forward.
Remaking American Airlines: We've seen the new livery for American (and nobody we've talked to likes the tail). American said it is also doing new uniforms. As we review the news for Odds and Ends, we saw a headline, "American Airlines to Outfit Flight Attendants with Designer Uniforms." There was a thumbnail photo to the left, too small for detail but clearly this was no F/A uniform we'd ever seen before. Holy cow, we thought. Then we enlarged it: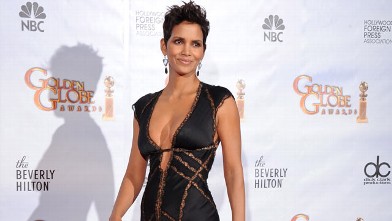 Alas, if only…..
Halle Berry's photo in her designer dress was chosen to illustrate the article, for reasons that passeth all understanding.