By Bryan Corliss
March 4, 2019, © Leeham News: Boeing and the Machinists Union have come to terms on a deal that will raise wages for the company's hourly work force and help the company compete for workers in a tight Puget Sound labor market.

The two sides have agreed on a pact that raises new-hire pay by $4 an hour in all job classifications, and raises pay for experienced workers in 32 specific job classifications by as much as $10 an hour.
In all, as many as 16,000 people are getting raises at Boeing, which is about 55% of the IAM-represented work force.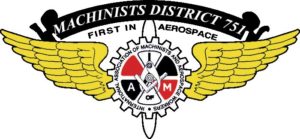 "Not everybody is getting something here, and that's hard," said IAM 751 President Jon Holden in an interview with LNA. "But we were using whatever leverage we could to make some improvement."
In a statement, Boeing said it is "committed to pay that is competitive within the local marketplace."
Not the usual negotiations
The agreement is highly unusual, in that the two sides already have contract in place that had locked in wage rates through 2024. That contract was approved – narrowly – by Machinists in 2014, after Boeing threatened to take 777X production away from Washington state.
What's happened was this:
Boeing's been trying to hire experienced people off the street to fill specific specialized jobs, such as building maintenance, machine tooling maintenance, avionics techs. But starting pay, which has been frozen since 2014, was too low to attract people with the kinds of skills and experience the company needs.
Language in the contract with the union allows Boeing to offer higher pay than the contract minimum in specific cases — typically when the company needs to bring in experienced workers to fill specialist roles.
The problem, from the union's point of view, has been that this has resulted in Boeing paying new-to-the-company workers significantly higher wages than it has paid long-time company employees who have earned promotions into the same jobs over time.
"In some cases, it was $8 or $9 an hour," Holden said. That kind of pay gap was demoralizing to workers who'd put in years working their way up through the ranks at Boeing, he said.
The union last year demanded the right to negotiate an equitable solution to this pay disparity issue, under a legal concept known as "effects bargaining," which gives unions the right to negotiate new contract terms whenever a company makes significant changes to working conditions or policies. Boeing agreed, talks started in October, and while they were at the table the two sides also negotiated over some other pay practices — chief among them being new-hire pay.
On the original issue – the gap between new hires and company veterans in specialized jobs – Boeing agreed to go back to 2016 (and in some cases, even farther) to review employment histories to determine whether workers who were at the company then have compiled enough experience in their roles to qualify them for the higher rates of pay offered to new hires.
"That was a big deal for us," Holden said.
Raising pay helps Boeing compete for labor  
Meanwhile, the gains the union made on new-hire pay should help Boeing better-compete for talent.
Boeing has been hiring new workers steadily over the past year. The reasons: increased retirements among aging baby boomers, coupled with a need for workers to maintain record production rates.
"These are boom times," Holden said. "We're lucky."
And it's happening against a backdrop of near full employment in Western Washington. King County (home to Boeing's Renton and Auburn plants and its Boeing Field flight line) reported a 3.3% jobless rate in December; Snohomish County (the Everett plant) was at 3.6%.
Under the old pay scale, Boeing could only offer new-hire Grade 4 mechanics $15 an hour — which is pretty much the going rate for fast-food and retail jobs in the Seattle area. (McDonald's, in fact, is currently advertising starting pay of $18 an hour at its Puget Sound locations.)
Under the new agreement with the union, Boeing will increase pay for newly hired Grade 4 mechanics — the bulk of final assembly mechanics fall into this category — to $19 an hour, with pay increases retroactive to Jan. 1.
New pay levels
All IAM-represented workers will make at least $15 an hour, under the deal. That puts entry-level pay at Boeing comfortably above Washington state's current minimum wage of $12 an hour. (Seattle's current minimum wage for large employers is $15. But only a handful of Boeing buildings – off the northwest corner of the Boeing Field flight line – are actually within Seattle's city limits, so only several dozen IAM-represented workers are subject to the wage ordinance.)
Prior to this agreement, average pay for all IAM-represented workers was $35.06 an hour, a union spokeswoman said – or nearly $73,000 a year before overtime.
Boeing's statement emphasized the need to keep up with market costs for skilled labor.
"We want to ensure we are compensating employees for their valuable work and enhancing our ability to attract, retain and engage employees," the company's statement said.