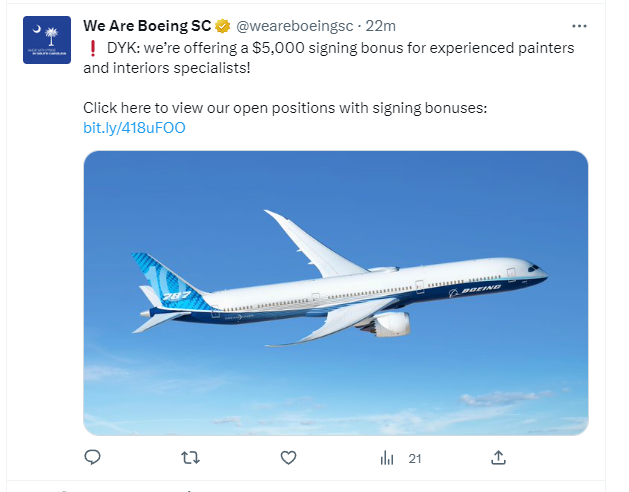 Subscription Required

By Bryan Corliss

April 17, 2023, © Leeham News: The Boeing Co., which has talked of making significant production rate increases "very soon," is offering bonuses of up to $10,000 as it recruits workers in touch-labor positions in both South Carolina and Puget Sound.
In Charleston, Boeing is offering $5,000 signing bonuses specifically for experienced painters and interiors installers as it tries to first stabilize, then increase, production of 787s. Boeing wants to reach a rate of 5/mo by the end of this year and 10/mo by 2025/26.
In Puget Sound, the company isn't offering signing bonuses, but it is offering hefty payouts of up to $10,000 to current employees who refer experienced aerospace workers to openings in a number of job categories, including structures mechanics and general machinists.
The moves come as analysts continue to sound alarms about workforce shortages across the industry. 
"We continue to remain cautious on the supply chain's ability to support the planned production rate increases in 2H23 and into 2024," wrote Ken Herbert, with RBC Capital Markets, in a report earlier this week. "We continue to see labor availability and training as the largest headwind facing the sector."
Boeing hiring as it prepares to ramp up
Boeing offers hiring incentives
Northwest aerospace labor market is tight
S. Carolina: Lockheed-Martin offers $10K
Boeing hiring as it prepares to ramp up

Boeing Commercial Airplanes CEO Stan Deal said last month that his business unit plans to increase production of 737s to 38 a month "very soon." That would be an increase from the current announced rate of 31. Bloomberg News reported that this goal is in July.
That, of course, is dependent on a couple of major factors: Whether the 737 supply chain can keep pace, and whether Boeing can find enough workers to adequately staff the Renton final assembly line, and associated 737 work sites in Auburn, Everett and Frederickson. 
The company has announced plans to hire 10,000 new workers nationwide this year.
In Wichita, Spirit AeroSystems offered jobs on the spot to some 700 people who came to a company job fair, with many of them receiving $3,000 hiring bonuses. 
Meanwhile, Washington state aerospace companies have hired 5,000 workers in the past year, according to the most-recent report from the state's Employment Security Department, from February. 
Insiders tell LNA that Boeing has been bringing in between 75 and 100 new hourly workers a week for the past few months. 
Despite that influx, the company still is hiring in the Seattle area, with openings in 375 job categories posted on its website earlier this week. It's looking for everything from senior manufacturing managers to project leaders to electronics techs and a range of mechanics and installers on the factory floor.
Boeing offers hiring incentives
To get more experienced workers to apply, Boeing is offering current employees referral bonuses of between $2,500 to $10,000, whenever someone they recommended for a job is hired. (Managers, executives and employees involved with hiring are exempted.)
HR professionals say the referral bonuses help companies find experienced people who may not be actively seeking new work. 
However, the current Boeing bonuses are well above what is typical for this type of employee incentive program. According to the Society of Human Resource Management, the majority of companies offering referral bonuses paid out between $1,000 and $2,499 in 2021. 
Boeing's $10,000 payouts are going for successfully hired structures mechanics, fuel tank mechanics, machine repair mechanics, electronics techs and general machinists. 
Boeing also is offering $6,000 bonuses for people who can refer experienced maintenance plumbers and air conditioning techs for its buildings, and $3,500 for industrial waste treatment operators.
There are $2,500 bonuses for referring people to fill more-common factory jobs like "Assembler/Installer B," which is a catch-all category for any number of people who work directly on airplanes, and for different categories of inspectors, painters and quality control personnel.
Northwest aerospace labor market is tight
However, Boeing is not the only Northwest aerospace company hiring. Later this month, at least five aerospace suppliers and a temporary services recruiting company will take resumes from aerospace workers at a job fair in Everett  
They looking to fill about 100 jobs, and most of them are looking for the same kinds of workers – CNC machinists, experienced electronics techs and structures installers in particular. 
To compete, most of the suppliers aren't trying to match the maximum pay levels specified in Boeing's contract with the Machinists Union, but they are offering starting pay that is $5 to $10 an hour above the starting pay for union members doing similar work at Boeing. And one – Damar Aerosystems, an aerostructures supplier that's a subsidiary of Senior Aerospace – is offering a $5,000 signing bonus to new hires in certain jobs. 
Some suppliers at this year's Pacific Northwest Aerospace Alliance conference talked of a need to raise pay across-the-board at many lower-tier aerospace companies, which in the past have offered wages competitive with entry-level retail jobs. 
South Carolina: Lockheed-Martin offers $20K bonuses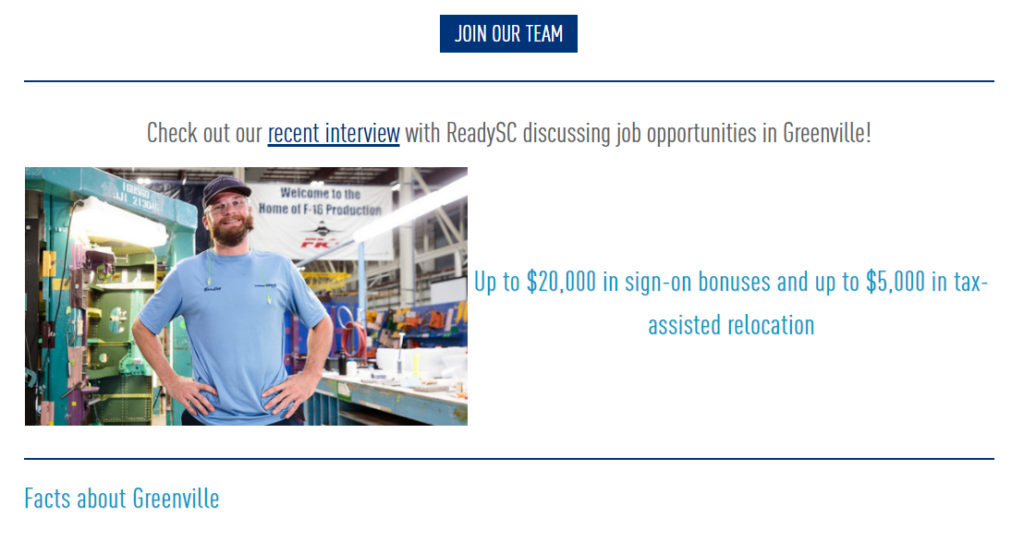 Boeing also faces a competitive labor market in South Carolina, where – as we've previously reported – the company is expected to increase delivery rates on the 787 line to five a month by the end of this year.
The South Carolina aerospace cluster is small by Northwest standards. Boeing's the largest employer, and its total Charleston employment is about a third of the number of people the company employs at Everett, which is one of four major sites Boeing operates around Puget Sound. There are a few suppliers in and around Charleston, the largest employing upwards of 100 people each. 
However, Boeing is competing for labor with Daimler, which assembles Sprinter vans for the U.S. market at two suburban Charleston plants. It also faces competition from Lockheed-Martin and Honeywell, which have aerospace facilities about three hours away, in and around Greenville, S.C. (LM both assembles and maintains F-16s at Greenville; Honeywell operates an MRO base in nearby Greer.) 
The competition seems fierce.
Lockheed-Martin's workforce went from 800 to 1,100 last year, and in January 2022, the company started offering $2,000 sign-on bonuses for airframe and powerplant mechanics, structures mechanics, avionics techs, painters, quality inspectors and tool makers.
LM has steadily bumped up its sign-on bonus offer, and it currently is offering $20,000 signing bonuses, along with up to $5,000 in relocation expenses, for mechanics willing to move to the small city at the base of the Blue Ridge Mountains. 
Aircraft painters in Greenville can make $25 to $29 an hour depending on experience, according to one temp agency's current job posting; a $20,000 bonus would be almost 40% of one year's pay.
To counter that, Boeing is offering $5,000 sign-on bonuses for painters and interiors installers, and is using temp agencies to scour for qualified candidates. Boeing even held a job fair in Mobile last year, trying to lure experienced Airbus workers for engineering, manufacturing and supply chain management roles. (An Airbus insider told LNA that the company is losing some employees who have gone through training, only to quit for other jobs.)
One current job listing at a national aerospace worker temp agency shows aerostructures mechanics with more than four years' experience can work as contractors for up to $40 an hour at Charleston. Another agency is quoting pay up to $38.56 an hour for contract assemblers with 10 years' experience. Aircraft painters with at least one year of experience can earn up to $29 as temp contractors in Charleston.
Coming close to union wages
Those pay levels are getting close to what Boeing pays its unionized workers in Puget Sound. Grade 5 aerostructures mechanics in Puget Sound make $42.89 with six year's experience; experienced Grade 4 assemblers make $41.71 an hour. (The contractors don't receive benefits, however, and the IAM benefits package at Boeing is very good.)
One company that isn't offering sign-on bonuses is Airbus. 
While the company is hiring 13,000 workers globally this year – and has current  U.S. openings in 193 job categories – it has not announced plans for any recruitment incentives. 
The takeaway: Boeing is not immune from the talent shortage impacting the rest of the industry, and is having to spend more to attract and retain experienced workers. This potentially could impact the company's ability to hit its increased production targets in the near term, as well as potentially affecting profit margins.