By Bryan Corliss
March 4, 2019, © Leeham News: Boeing and the Machinists Union have come to terms on a deal that will raise wages for the company's hourly work force and help the company compete for workers in a tight Puget Sound labor market.

The two sides have agreed on a pact that raises new-hire pay by $4 an hour in all job classifications, and raises pay for experienced workers in 32 specific job classifications by as much as $10 an hour.
In all, as many as 16,000 people are getting raises at Boeing, which is about 55% of the IAM-represented work force.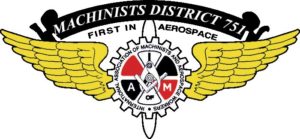 "Not everybody is getting something here, and that's hard," said IAM 751 President Jon Holden in an interview with LNA. "But we were using whatever leverage we could to make some improvement."
In a statement, Boeing said it is "committed to pay that is competitive within the local marketplace."