By Bjorn Fehrm
March 14, 2018, ©. Leeham News: Embraer presented its Fourth Quarter and Full-year 2018 results today.
The company posted a tiny profit after a year where the Commercial aircraft division started the transition to the E2 generation of the E-Jet and the Business aircraft division had a slow year for its Executive Jets.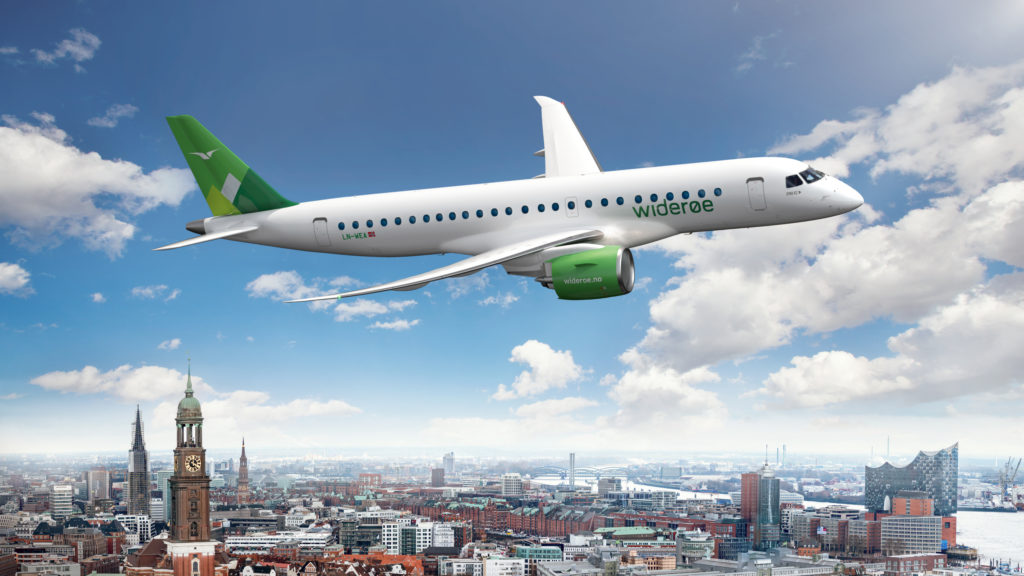 Commercial aircraft
The Commercial Aircraft division delivered 90 E-Jets during 2018 compared with 101 for 2017, Figure 1.
The aircraft paying the bills is the E175 as it's the most popular aircraft for the large US Scope clause market. The E190 had 17 deliveries whereof four E2 variants and the E195 five, all the present E-Jet generation.
Segment 2018 revenue was down 18% at $2,358m vs. $2,771m for 2017.
Business Aircraft
While Commercial Aircraft is in a generation shift, the low deliveries for the business jet line and especially the larger jets is more difficult to understand, Figure 2.
The ratio of margin richer large jets is down 27%  to 27 for 2018 vs. 37 for 2017. Segment revenue was down 14% at $1,104m for 2018 vs. $1280m for 2017.
Embraer has new and modern large jets with Legacy 450 and 500. Despite their modern state, they have not been selling. The smaller segment has less of a decline with 64 jets from 72 the year before. Here the Phenom 300 is a strong seller in a flat market.
Defense & Security
Embraer achieved Brazilian certification late 2018 for its KC-390 aircraft but had no deliveries. It delivered the Super Tucano trainer aircraft to a world market and defense electronics to the Brazilian government. Segment revenue was down 28% at $612m for 2018 vs. $854m for 2017.
Services and Support
Services revenue for 2018 grew by 6% from $922m to $981m. It was the only Embraer business segment which grew in 2018 compared to 2017.
Group results
With all segment being down on revenue compared with 2017 except for Services, it wasn't a great year for Embraer.
Revenue for 2018 fell with 13% to $5,071 vs. $5,859m for 2017. Profit was a low $35m versus $342m for 2017. This includes extra charges from the crash in 2Q2018 of a KC-390 test aircraft.
Embraer's guidance for 2019 is 85 to 95 commercial jet deliveries and 90 to 110 executive jets. The defense side would deliver 10 A-29 Super Tucano aircraft and two multi-mission KC-390 aircraft. Total revenues should be between US$ 5.3 billion and US$ 5.7 billion at a breakeven result.
The overarching event for 2019 is, of course, the formation of Commercial aircraft Joint Venture with Boeing in 3Q2019, with the necessary approvals running to plan so far.