Subscription Required
Now open for all readers.
By Vincent Valery
Introduction 
Oct. 7, 2019, © Leeham News: Amazon's moves into ACMI air service, a dramatic construction of an air freight operation and entering ground delivery services threatens FedEx and UPS.
Although UPS last week beat Amazon to the punch with approval from the Federal Aviation Administration for drone-based package deliveries, Amazon was first to advance the idea.
FedEx canceled its contracts with Amazon as the latter moved into ground delivery. FedEx revenues have fallen sharply in recent months.

Summary
Growing Amazon footprint in delivery business;
Leads to direct competition with FedEx and UPS;
Drone delivery development;
A threat to traditional delivery service business model;
Trade slump exposes FedEx more.
Fast Growing Amazon
Amazon's revenues grew by more than 30% in 2018. Most of that growth came from e-Commerce in the USA. The company is commensurably expanding its package delivery abilities. LNA was the first to report, on Oct. 8, 2018, Amazon's quiet plans to dramatically grow Amazon Air and establish a giant air freight center.
The high growth puts Amazon in direct competition with FedEx and UPS. FedEx decided Aug. 7 to terminate its ground-shipping contract with Amazon. Combined with disappointing earnings, this led to the worst daily stock price drop since the financial crisis for the package delivery company.
The two delivery service behemoths also have to contend with a global trade slowdown.
1% of US GDP
Amazon's growth has been nothing short of phenomenal. Its $233bn annual revenues make it the 13th largest company in the world by this metric. That represents more than 1% of the USA's GDP.
The bulk of revenues come from online store sales (53%), followed by third-party seller services (18%), Amazon Web Services (11%), physical stores (7%) and subscription services (6%). The USA is the company's largest market, with 69% of sales, followed by Germany, the UK, and Japan.
Given the sheer size of Amazon's operations, it makes more sense to handle more deliveries in-house when more profitable. The company is building a sorting facility at Cincinnati Northern Kentucky International Airport with parking space for over 100 cargo aircraft.
Rebranding of Amazon Prime Air
Amazon founded Prime Air in December 2015. Cargo operations started in March 2016 with Boeing 767s on ACMI leases operated by Air Transport International. Atlas Air began cargo operations for Amazon Prime Air in 2017. Southern Air commenced 737 freighter operations earlier this year for Amazon Air.
The airline is expected to grow in the future significantly. So far no orders have been directly placed with either Airbus or Boeing.
The company rebranded its airline to Amazon Air in 2017. Interestingly, the Prime Air logo still features on Amazon's cargo fleet. Amazon Prime Air now refers to the drone delivery service.
Expanding last-mile delivery footprint
FedEx showed in its Q1 FY 2020 earnings presentation the share of Amazon.com last-mile shipments handled in house. The share grew from 18% in Q1 2017 to almost 50% in Q2 2019. The Amazon Prime Air program is part of the strategy to increase this share even further.
This increased share was made possible by the expansion of Amazon Logistics. The program allows small companies to handle package deliveries on behalf of Amazon. As marketed on the company's website, Amazon Logistics provides technical support to its third-party delivery businesses.
FedEx's annual report reveals why Amazon is so keen to expand its ground delivery services.
Competition with FedEx
There are several independent subsidiaries within the FedEx Corp.
The flagship global delivery service is part of FedEx Express, which includes the airline. FedEx Express ships packages from first to the last mile in-house. It represents 54% of company revenues.
FedEx Ground handles ground deliveries. Unlike at FedEx Express, third party companies perform a large portion of packages deliveries. FedEx Corp. derives 29% of its revenues from this subsidiary.
Other FedEx subsidiaries include FedEx Freight, FedEx Services, FedEx Office and FedEx Logistics.
Below is a plot comparing operating margins at FedEx Express and FedEx Ground by fiscal year: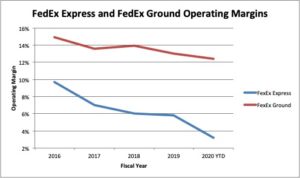 FedEx Ground is far more profitable than FedEx Express. More worryingly, FedEx Express's profit margin sharply declined in recent years. The operating margin at FedEx Ground has been steadier and only marginally declined. The combined margin was 8.8% in 2018.
Competition with UPS
UPS breaks down its revenues differently. The company's three subsidiaries are US Domestic Package, International Package, Supply Chain & Freight.
US domestic package operations had an 8.4% operating margin in 2018. International Package operations had a 17.5% operating margin. The combined margin was 10.7% in 2018, almost two percentage points ahead of FedEx.
Amazon is increasing its footprint in the ground deliveries business because it is a more profitable segment. The company is going after FedEx Ground's high margins. One should assume that UPS earns similar if not higher margins.
FedEx mentioned Amazon as a competitor in its 2018 annual report. The end of the delivery agreement was not a surprise.
For now, UPS seems to perform better than FedEx. UPS will reveal in its Q3 2019 results whether profit margins are also sharply deteriorating.
One should note that UPS and FedEx earned $71.9bn and $69.7bn in revenues in 2018, respectively. The world's largest passenger airline by revenues in 2018, American Airlines, made $44.6bn.
The new frontier of drone deliveries
As mentioned earlier, Amazon Prime Air is developing a drone delivery service. Packages up to five pounds would be eligible for a 30-minute delivery within 10 miles of an order fulfillment center. It is expected to begin operations in select cities later this year.
Wing, an Alphabet subsidiary, is another drone delivery service. It is teaming up with several companies, including FedEx, to deliver products to the town of Christiansburg (VA). Should Wing wish to expand deliveries to other locations, it will need to apply for new permits.
Flight Forward, a UPS subsidiary, received approval on Oct. 1 to set up a fleet of drones to deliver medical supplies. The FAA granted the license after a successful trial in Raleigh (NC). It is the most comprehensive approval granted by the FAA for drone deliveries so far.
A threat to Business Model
FedEx and UPS market themselves as full-service package delivery companies. With this comes a requirement to accommodate clients in less profitable locations.
Those constraints don't apply to Amazon. In-house delivery operations can focus on the most profitable locations while outsourcing the rest. The company can also tailor its operations around its specific needs.
Aging technology and logistics networks don't burden Amazon. The company started with a clean sheet, using 2010s technology, including Amazon Web Services. FedEx and UPS have to spend large sums on upgrading legacy systems to meet tighter delivery schedule requirements.
FedEx Express is spending hundreds of millions each year on the TNT Express integration. FedEx Express and TNT Express are still running duplicate networks in Europe.
Trade Slump Exposes FedEx
FedEx's management blamed a global trade slowdown for missing its revenue and profit targets. In fiscal Q1 2020 its most lucrative international segments, Priority package, and freight had a 3% and 13% year-on-year drop in revenues respectively. International Economy package and freight had flat year-on-year revenues. The less favorable revenue mix hurt profit margins.
FedEx Express announced the retirement of its fleet of McDonnell-Douglas DC-10s by the end of fiscal 2021. The 10 Airbus A310s are also expected to leave the fleet in the next few years. The carrier is also grounding the equivalent of seven McDonnell-Douglas MD-11s for the rest of the year.
So far, FedEx hasn't announced aircraft delivery schedule changes. The carrier still has 55 Boeing 767-300Fs and 13 777Fs scheduled for delivery by the end of fiscal 2025.
UPS has orders outstanding for 15 Boeing 747-8Fs and 11 767-300Fs.
Conclusion
While Amazon Air's expansion gathered most of the attention in aviation circles, this does not represent the main threat to FedEx and UPS. By expanding last-mile delivery services, including the future usage of drones, Amazon is after the higher ground delivery profit margins.
Amazon can "cherry-pick" the most profitable delivery markets. As universal package carriers, FedEx and UPS have to serve most markets. Amazon also has the advantage of starting with a clean sheet of paper from a technology standpoint.
FedEx was quick to point out weakening global trade as the leading cause of its underperformance. The deterioration in profit margin at its flagship FedEx Express division is concerning. So are the bloated integration costs of its expensive acquisition of TNT Express.