By Judson Rollins
Introduction
Jan. 3, 2020, © Leeham News: Despite all the safety-related headlines surrounding the Boeing 737 MAX, 2019 was a mercifully quiet year with just six fatal airline accidents around the world.
Clifford Law Offices in Chicago recently released an analysis of aviation incidents and accidents reported to the US National Transportation Safety Board (NTSB) from 1982 to 2018. It highlighted several interesting patterns that are probably well known to pilots but perhaps not the rest of the aviation community. LNA also looked at accident data from the European Union Aviation Safety Agency (EASA) for 1970-2017 for comparison.
In 2018, the NTSB investigated 1,581 aviation accidents and incidents that left 847 people dead and another 768 people injured. The vast majority of these, not surprisingly, involved non-commercial general aviation aircraft. Seventy-nine percent of all US aircraft accidents and 72% of fatal accidents involved single-engine planes. In this article, LNA will focus primarily on commercial aircraft operations like the ones defined under US Federal Aviation Administration Part 121 rules.
Summary
Air travel remains one of the safest modes of transportation;
Accidents and fatalities have fallen dramatically over the past 40 years;
The most accidents occur during takeoff and landing, but those during maneuvering and cruising are the most deadly.
Aviation accident rate bested only by trains
The US National Safety Council puts the odds of dying as a passenger of an airplane as 1 in 188,106. Only railway travel is safer, with a death rate of 1 in 243,765. However, aviation accidents are much more likely to be fatal than those in other forms of transportation. From 1982 to 2018, 20% of all aviation accidents and incidents involved at least one fatality. By comparison, less than 1% of US car accidents were fatal.
On a flight-hour basis, US Part 121 operations have averaged 0.86 accidents involving injury or death per million flight hours. EASA measures commercial accidents per million flights; it reported an average of 13 serious incidents or accidents per million flights for the five-year period ending 2017.
Just as total aircraft accidents have steadily decreased, fatalities have seen a similar overall decline, albeit at a much less linear rate. After a high of 2,365 in 1972, commercial aircraft accident fatalities fell to a record-low 67 in 2017.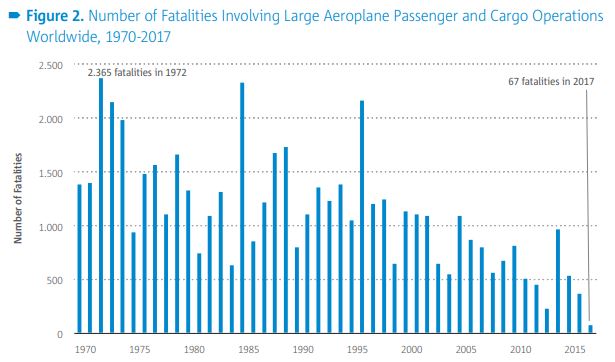 Source: EASA Annual Safety Review 2018
Accidents are concentrated in just a few phases of flight
Fully 48% of US accidents occurred during takeoff and landing, with an additional 3% during climb and 11% during approach. Interestingly, landing accounted for 27% of accidents but just 2% of fatalities. This statistic is likely explained by the vigilance of cabin crews checking for seat belt usage during initial descent.
However, accidents that occur during the maneuvering and cruise phases had the highest rate of fatalities. In the NTSB's data, 39% of accidents during maneuvering and 30% during cruise were fatal. Interestingly, despite being the most likely phase to be involved in an accident, accidents during landing were by far the least likely to be deadly. Just under 2% of landing phase accidents resulted in a fatality – compared to 15.7% of accidents during takeoff.
The following is a full distribution of US accidents by phase of flight: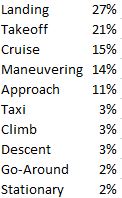 Why have accidents rates decreased?
There is an unfortunate but accurate saying among pilots: "Aviation safety improves one accident at a time." With each accident, investigators uncover lessons that can be used to prevent future occurrences. So-called "probable cause" accident reports often contain recommendations to regulators, manufacturers, and operators regarding improvements to design, processes, documentation, and training.
Increased safety regulation and requirements for carriers and pilots have also helped reduce commercial accidents and fatalities. Until a passenger was killed due to an uncontained engine failure aboard a Southwest flight in 2018, it had been more than nine years since the last fatal airline accident in the US.
Pilot training and experience requirements have risen significantly, most notably the increase from 250 to 1,500 flight hours required for a US Air Transport Pilot certificate. Flight and duty time regulations have also been strengthened alongside other industry safety and transparency requirements. The work of accident investigators and aviation regulators, together with improved operator and pilot practices, will continue to make aviation even safer in the years to come.