Air India's Rupee bottomless pit
Subscription Required
By Vincent Valery
Introduction  
Jan. 6, 2020, © Leeham News:
Air India lost more than $1bn in the fiscal year 2018-19. After years of heavy financial losses, the Indian government is mulling another privatization attempt. The current Air India is the result of the 2007 merger with another publicly owned airline, Indian Airlines. The Indian flag carrier owns several subsidiaries, including two operationally separate airlines, and a hotel chain. One would a priori think that the sustained losses are mainly the results of a bloated cost structure.
LNA
went through Air India's financial statements since the fiscal year 2007-08 to see whether that is the case.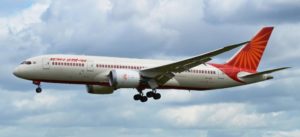 The root causes of Air India's chronic losses will make the latest privatization attempt challenging to execute for the current government.
Summary
A complicated history and structure;
Strategic decision and competition drag company down;
Not only a cost problem;
Lessons from a failed privatization attempt.
To read the rest of the article Login or Subscribe today.