Jan. 7, 2021, © Leeham News: Boeing today agreed to pay $2.5bn to settle criminal charges with the US Department of Justice over the 737 MAX investigation.
The settlement comes in the form of a Deferred Prosecution Agreement (DPA).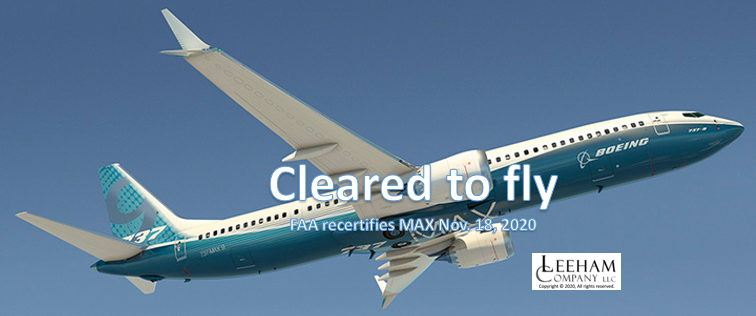 In a filing with the Securities and Exchange Commission, Boeing synopsized the agreement:
The DPA contemplates that the Company will: (1) make payments totaling $2,513.6 million, which consist of (a) a $243.6 million criminal monetary penalty; (b) $500 million in additional compensation to the heirs and/or beneficiaries of those who died in the Lion Air Flight 610 and Ethiopian Airlines Flight 302 accidents; and (c) $1.77 billion to the Company's airline customers for harm incurred as a result of the grounding of the 737 MAX, offset in part by payments already made and the remainder satisfied through payments to be made prior to the termination of the DPA; (2) review its compliance program for implementation of continuous improvement efforts; and (3) implement enhanced compliance reporting and internal controls mechanisms. Under the terms of the DPA, the criminal information will be dismissed after three years, provided that the Company fully complies with its obligations under the DPA. Of the payments described above, $1.77 billion has been included in amounts reserved in prior quarters for 737 MAX customer considerations. The Company expects to incur earnings charges equal to the remaining $743.6 million in the fourth quarter of 2020.
However, Dominic Gates of the Seattle Times points out that "Only $243.6 million, less than 10%, is a fine for the criminal conduct. And Boeing must pay an additional $500 million compensation to the MAX crash victim families. However, 70% of the $2.5 billion cited is compensation to airline customers that Boeing has already agreed to pay."
Justice Department statement
The Justice Department's full statement is here. In part, the DOJ said:
Boeing has entered into an agreement with the Department of Justice to resolve a criminal charge related to a conspiracy to defraud the Federal Aviation Administration's Aircraft Evaluation Group (FAA AEG) in connection with the FAA AEG's evaluation of Boeing's 737 MAX airplane.
The criminal information charges the company with one count of conspiracy to defraud the United States.
"The misleading statements, half-truths, and omissions communicated by Boeing employees to the FAA impeded the government's ability to ensure the safety of the flying public," said U.S. Attorney Erin Nealy Cox for the Northern District of Texas. "This case sends a clear message: The Department of Justice will hold manufacturers like Boeing accountable for defrauding regulators – especially in industries where the stakes are this high."
Complaint and DPA
The criminal complaint is here: boeing_criminal_information
The DPA is here: boeing_deferred_prosecution_agreement