April 29, 2021, © Leeham News: Embraer posted improvement in some of its year-over-year financial results today.
Revenue for the first quarter was up 27.3%, from $633.9m to $807.3m. The 1Q20 period was largely unaffected by the global COVID-19 pandemic, which didn't hit until March 10. But Embraer Commercial was at a standstill, awaiting approval from the European Union on the proposed joint venture with Boeing. (Boeing terminated the JV late in April.)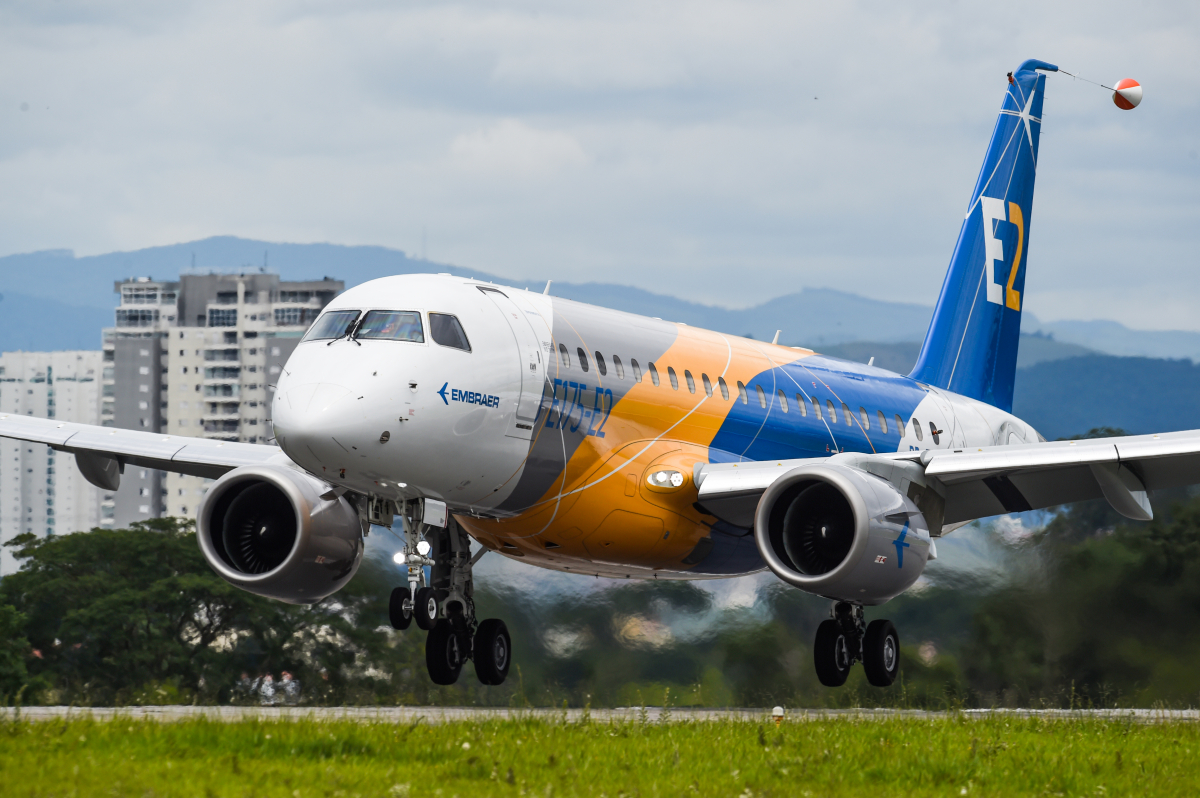 Embraer reported an EBIT loss last year of $46.9m. It still reported a loss this year, of $33.1m. Adjusted net losses for the two quarters weren't much different: $104m in 1Q20 vs $95.9m this year. But Net income attributable to shareholders improved from a loss of $292m to a loss of $89.7m.
Adjusted Free Cash Flow remained negative YOY but improved from $676.5m to $226.6m.
Embraer delivered nine E-Jets, including five E195-E2s, and 13 executive jets during the quarter. Post quarter, EMB signed a firm order for 30 E-195 E2s with an unidentified customer. Deliveries begin in 2022.
Initial analyst reaction is below.
Credit Suisse
Solid top-line and adjusted Free Cash Flow beats driven by YOY growth at all segments ex-Services & Support. E175-E2 EIS pushed to 2024. As expected, no 2021 guidance due to Covid.
Goldman Sachs
Embraer revenue is above consensus in the quarter and the free cash use is better than our model and typical seasonality. Adjusted EBITDA is well below consensus, with some headwinds that may be non-recurring but also a lower gross margin. Embraer booked an order for 30 new firm E2s in April, the first sizable order since the start of the pandemic.
Revenue of $807.3m is 3% above FactSet consensus. Defense revenue up 26% YOY, and Services is down 4%. Adjusted EBITDA of $(18m) is below consensus at $44m, reflecting a 2% EBITDA margin from 10% last year driven by retrofit and non-quality costs at Executive, delivery mix, and devaluation of the real in Defense, partially offset by cost reduction initiatives and a foreign exchange tailwind. Adjusted free cash is a use of $(227m) in 1Q, better than our modeled $(510m) and less of a usage of cash than the $(677m in the prior year period. Guidance remains suspended.