Oct. 27, 2021, © Leeham News: Boeing reported small operating profits and small net losses for the third quarter and nine months.


The third quarter operating profit was $329m and $1.27bn for the nine months. Boeing lost $401m and $4.7bn for the periods in 2020.
Operating cash flow used in the third quarter declined to $262m and $4.1bn compared with $4.8bn and $14.4bn used in 2020. Additional cash was used for spending on property, plants and equipment. Boeing had $20bn in cash at Sept. 30, down slightly from June 30's $21.3bn. Consolidated debt declined from $63.6bn at June 30 to $62.4bn at Sept. 30.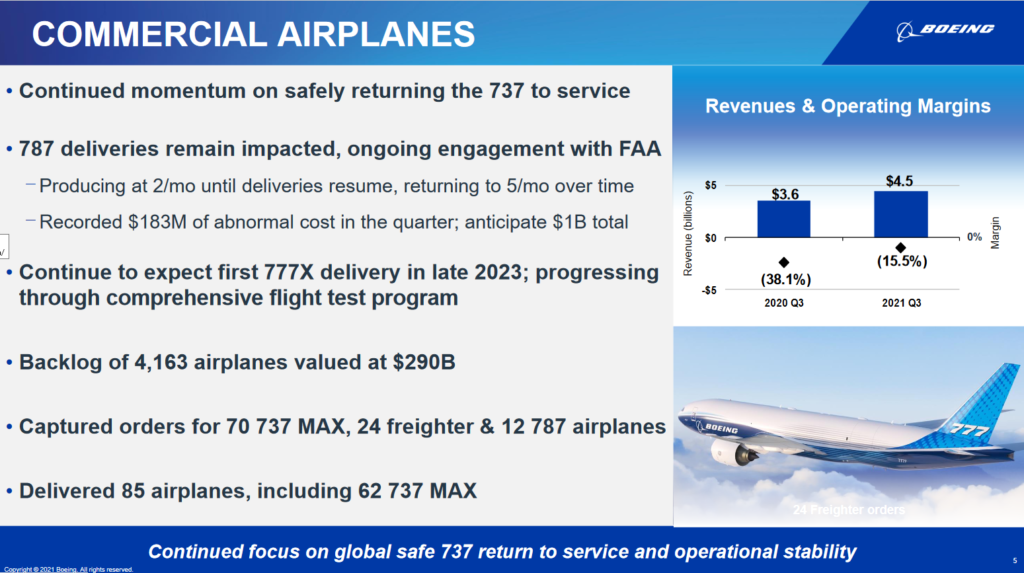 195 MAXes delivered
"Boeing has delivered more than 195 737 MAX aircraft and airlines have returned more than 200 previously grounded airplanes to service," the company reports. Of the 195, the majority of those delivered came from inventory. Sixty-two MAXes were delivered in the third quarter. New production aircraft have been added to inventory. Boeing ramped up 737 production to 19/mo. Production of the 787 is 2/mo as deliveries continue to be stalled for a year. The 787's pause in deliveries will cost Boeing $1bn in "abnormal" costs, including $183m in the third quarter. These figures also include the rework required to resume deliveries.
In an interview on CNBC, Boeing CEO David Calhoun said he can't predict when deliveries of the 787 will resume.
"We're following a very deliberate process. It's a mirror image of the MAX," he said. "We dotted all the Is and crossed all the Ts and we're going to do the same thing with the 787. I can't predict delivery times. But we are going to stick to our knitting."
The estimate of the total cost of the delivery pause and rework could change if unknowns today emerge later. But, Calhoun said, "The way I think about the billion dollars is it's an investment."
Customers ordered 70 MAXes 24 freighters and 12 787s during the quarter.
China is a key
Much of Boeing's future depends on China, Calhoun said on CNBC.
"We have to make sure the China market is open to the United States and open to Boeing. If it isn't, Europe will fill the void. If I got to the middle of next year without China, we wouldn't cut rates but we wouldn't increase at the pace we plan," he said. Calhoun remains "constructive and optimistic" about China. Even so, increasing production rates depends on the supply chain, which is under pressure generally and from rival Airbus. Airbus wants to increase production rates of the A320 family to up to 75/mo by 2025.
Boeing plans to increase 737 rates to 31/mo early next year. But returning to the 52/mo before the MAX grounding isn't a timeline Calhoun was willing to predict.
"The wild card in this one isn't demand. It's all about the supply chain. They're going to have to come to grips with that. Whether it's two, three, or four years, I think we'll get there," he said on CNBC–adding the caveat about China.
Boeing's earnings call will be at 10:30 am today Eastern time. Web access is here.