By the Leeham News team
Oct. 26, 2021, © Leeham News: Two mega-lessors warned Airbus against dramatically upping production rates of the A320 family, London's Financial Times reported Oc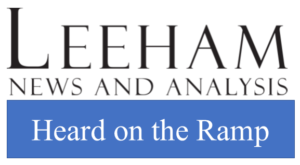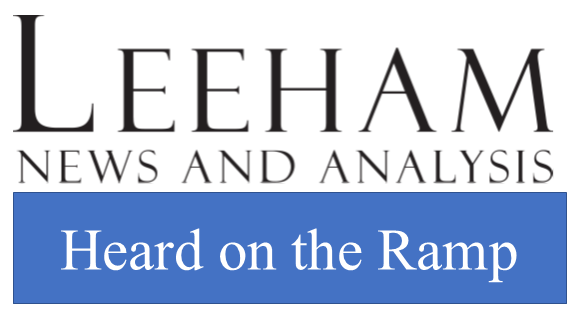 t. 23.
"[B]old plans to speed up production are unjustified given still subdued demand from airlines after the coronavirus pandemic," The Times wrote. Airbus notified suppliers earlier this year to study going to a production rate of 70 aircraft per month by 2025. Rates might go even higher, to 75/mo, Airbus said.
"The chief executives of Avolon and AerCap, wrote to Guillaume Faury, Airbus chief executive, in recent weeks to express their concerns that the aircraft market would not support the most aggressive increases in output rates, according to four people familiar with the situation. A surge in supply of new aircraft, potentially flooding the market, could push down the value of the lessors' existing fleets. They make their money by renting to airlines," the paper wrote.
Warnings aren't new
Lessor warnings and complaints about production rates are nothing new. During every major, unusual economic downtown, lessors voiced concerns over rates at Airbus and Boeing. These downturns included the two Gulf Wars, 9/11, and SARS.
Lessors make significant portions of their profits by selling relatively young aircraft from their portfolios. Residual value at the time of the sales must be high or robust to support profits. A supply imbalance can push down values—and lease rates—making profits harder to come by.
While major customers of Airbus and Boeing, lessors compete with the OEMs to place airplanes. But Christian Scherer, the chief commercial officer at Airbus, doesn't view lessors as rivals.
"I would dispute the fact that we're rivals with our leasing partners," Scherer said during a press gaggle at the IATA AGM Oct. 3-5 in Boston. "We try to manage our relationship with the leasing market in a way that does not create bubbles, good or bad."
The Times also wrote, "Industry executives said the European company was keen to take advantage of what one described as a 'once-in-a-lifetime opportunity to crush Boeing'."
But in a subsequent interview at IATA with LNA, before The Times article was published, Scherer maintained that demand supports production rates in the 70s and not taking advantage of Boeing's current travails.
"If it was about market share, we'd be talking about rates that started with an eight, seriously," Scherer said. "This is about meeting demand. I can tell you those scenarios of rates in the 70s are strictly to meet demand."
Comparing in-storage A330-200s and A330-300s
LNA has been discussing the order book weakness of small twin-aisle aircraft. There are only 59 outstanding orders in that aircraft category with Airbus and Boeing (40 787-8, 11 A330-800, and 8 A330-200). LNA estimates that half of them are iffy.
When one looks at the number of in-storage A330-200s and A330-300s, a similar story of fading popularity emerges.
The below table shows statistics about the A330-200s and A330-300s in service and storage in January 2020, January 2021, and October 2021. We only consider aircraft in commercial service, whether passenger or freight.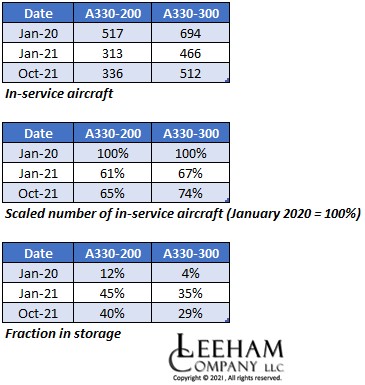 The number of in-service A330-300s has recovered to 74% of its pre-pandemic level, with 29% of the fleet in storage. Forty percent of the A330-200 fleet is in storage, and the number of in-service aircraft is back to 65% of the January 2020 level. The A330-300 seems to be weathering the COVID-19 pandemic better than its smaller counterpart.