Subscription Required
By Vincent Valery
Introduction  
Sep. 16, 2021, © Leeham News: LNA has so far compared the performance of both factory and converted freighter aircraft. We will continue the cargo-themed series by analyzing how cargo capacity might decide what passenger aircraft airlines buy.
LNA has extensively discussed Airbus and Boeing's struggles in accumulating orders for their larger aircraft, the A350-1000, and 777X. However, as seen in a recent article, smaller twin-aisle airplanes face skinny order books as well.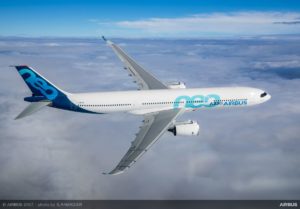 One could think that the COVID-19 pandemic would lead airlines to down-gauge their twin-aisle orders to the smallest available variants, the Airbus A330-800 and Boeing 787-8. Such moves make sense at face value to accommodate a reduced demand in passenger traffic.
So far, only Singapore Airlines has converted two 787-10 orders to the 787-8. Instead of down-gauging, American Airlines converted a portion of its 787-8 order to the larger 787-9. Condor recently announced replacing its aging 767-300ER fleet with A330-900s instead of opting for smaller aircraft.
We now investigate whether airlines' decision not to down-gauge their twin-aisle order books to the smallest variants has to do with a reduction in cargo capacity.
Summary
A drought of small twin-aisle orders;
Airline conundra on choosing best variant;
Comparing cargo capacity of in-production passenger aircraft;
Setting the analysis framework.