May 23, 2022, © Leeham News: The delivery delays for the Airbus A320neo and Boeing 737 MAX get all the headlines. But Airbus also has delivery delays for the Airbus Canada A220.
There are at least three A220s missing cockpit installations on the ramp at the Mirabel Airport final assembly line with more coming off the FAL, LNA is told. The number of A220s with this traveled work at the Mobile (AL) FAL is not known. Some quality control issues at the Mobile plant, which is still in its learning curve phase, have been reported.
Supply chain issues
Airbus Canada ducked directly answering questions about the traveled work and delays. A spokesperson said in a written statement that "We are constantly working closely with all major A220 suppliers and partners in order to provide assistance and support to ensure on-time and on quality delivery of A220 parts to protect our pre-FAL/FAL operations.
"As a reminder, we delivered 50 A220 aircraft in 2021 – the highest number ever for A220s and continue to ramp up our A220 production, with the addition of the pre-FAL in Mirabel supporting our pre-assembly work since January. We are still early in the 2022 year and are collaborating closely with our suppliers and partners to protect our delivery targets."
Further comment was declined. It's known that Airbus, like Boeing, is going through supply chain issues still related to COVID and now the war in Ukraine that interrupted some suppliers. Airbus adjusts the build sequence to protect its FAL operations.
Ramping up production
Airbus Canada currently produces the A220 at a rate of four or five a month at Montreal Mirabel Airport and one a month at the Mobile FAL. Montreal has a capacity of 10/mo and Mobile's capacity is 4/mo. The Mobile plant is new, opened a year ago last Thursday. Assembly of the A220 in Mobile began in 2019 in the A320 FAL facility. Workers are still on the learning curve process. At least one customer taking delivery of the A220 from Mobile complains about quality control, but details weren't forthcoming.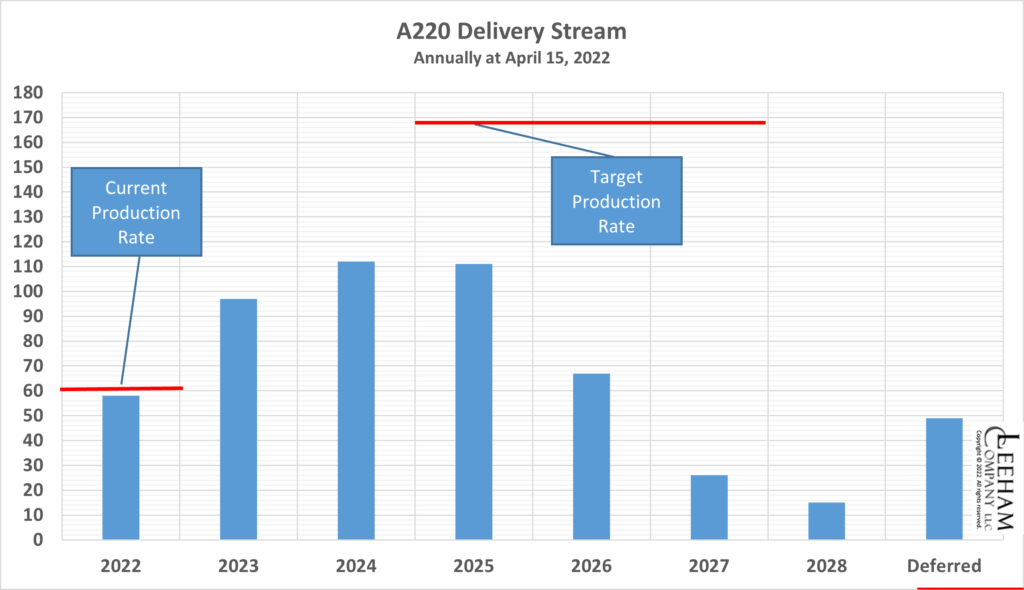 Airbus wants to ramp up production to the full capacity of 14/mo between the two plants by 2025. Costs remain too high, and Airbus is pressing suppliers to lower costs. But ramping up to a rate of 14/mo is also critical to turning the A220 from a loss to a profit.
The current backlog doesn't support production rates this high. But the A320neo line is sold out to 2027; Airbus has a goal to increase production to 75/mo by 2025, which brings its own supply chain issues. Selling A220s may relieve some of the lower-end demand for 150-seat airplanes. Bombardier, the forerunner of Airbus Canada, designed what was then called the CS500 (now conceptually the A220-500), a plane directly competitive with the A320neo and the Boeing 737-8 MAX. The A220-500 would seat about 175 passengers in two-class configuration.
Airbus officials say an A220-500 will happen. But they want to program to turn profitable before launching the -500—or at least be in sight of profitability. Getting to rate 14/mo is one of the key metrics.
There have been 740 orders placed for the A220 (104 A220-100s, 638 A220-300s). Two hundred eight have been delivered (55 and 153, respectively).