By Scott Hamilton
July 18, 2022 (BST), © Leeham News: Pratt & Whitney and sister company Collins Aerospace announced the launch of a hybrid-electric technology demonstrator, it was announced today at the Farnborough Air Show. This program is for future advanced air mobility vehicles.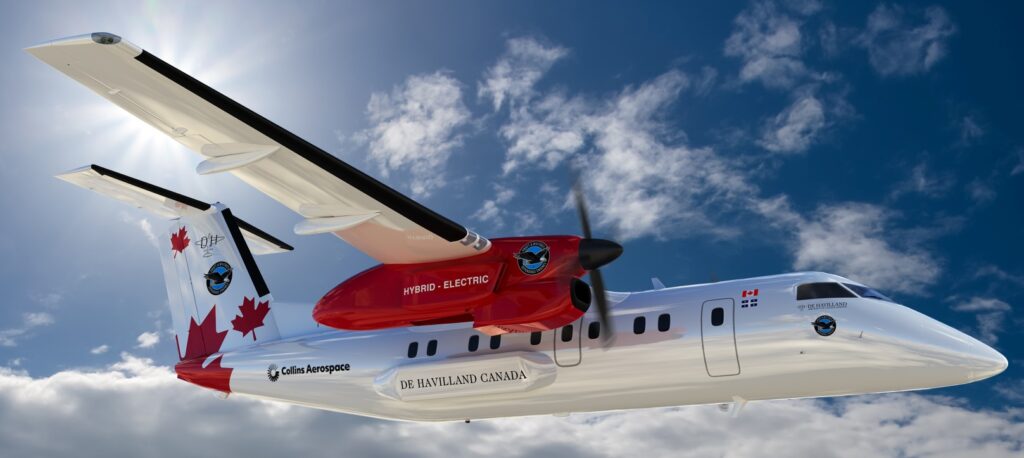 Collins and Pratt & Whitney Canada, the turboprop engine unit, also announced the completion of the preliminary design of a 1MW motor for the demonstrator. A De Havilland Canada Dash 8-100 will be the platform for the commercial hybrid-electric application.
Advanced Air Mobility
Called the STEP-Tech, this stands for the Scalable Turboelectric Powertrain Technology. This project is tied to the industry-wide goal of achieving net-zero CO2 emissions by 2050. It's an ambitious industry goal.
The PW-Collins goal is to develop distributed hybrid-electric propulsion concepts in the 100-500kW sector. The propulsion may be scaled up to 1MW or more.
"In this space, you have a series and a distributed hydroelectric propulsion system," explained Frank Preli, Vice President, Propulsion & Materials Technologies for PW, during a pre-Farnborough briefing. "We'll have a turbo generator generating electricity and then that will be managed across one or more propulsors. In certain applications, you may have a dozen of these, for example.
"We'll be doing our first ground testing later this year. Turbo generating makes the electricity. We will have a battery system as well and we can manage the power between the batteries and the turbo generator to power for propulsion units. That of course is all variable."
Commercial application
"This is a project being run by Pratt & Whitney Canada (PWC), leveraging the capabilities of the whole corporation," Preli said. The parallel hybrid electric is a system in which there is both a thermal engine and an electric motor-generator mechanically coupled to the turboprops.
"We can operate this propulsion system either on the motor-generator or the thermal engine or both. In certain parts of the mission, you'll need all the power from both of those units, but in others, such as crews, you'll only need power from the thermal engine," he said.
"That engine can then be downsized and optimized for ultimate cruise performance. The overall mission energy use will be up to 30% lower than today's turboprop aircraft through that combination and optimizing of the mission cycle," he claims. Ground testing should begin this year, followed by a flight test in 2024."
Collins Aerospace
Collins completed the preliminary design of the 1MW electric motor for PWC, the companies announced at the air show. Testing already has been done. Prototypes will be sent to Canada soon.
"We are developing sustainable hybrid-electric propulsion technologies that will play an integral role in helping the aviation industry reduce carbon emissions to net-zero by 2050," said Henry Brooks, president, Power & Controls for Collins Aerospace. "Together, we have the opportunity to truly redefine aerospace with greener solutions that will benefit not only our industry but our world as a whole."