By Bryan Corliss
Monday, June 19, 2023, © Leeham News – Airbus landed a huge but widely expected order for 500 A320s from Indian carrier IndiGo, as the 2023 Paris Air Show got underway Monday.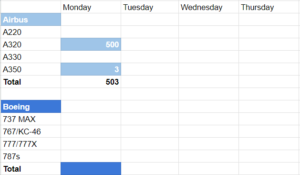 Analysts had issued pre-show forecasts that orders for as many as 3,000 jets will be announced this week at Le Bourget, as airlines place big bets on a continuing industry recovery from the Covid-19 pandemic worldwide.
Despite the lofty projections, the show got off to a slow start, with only a handful of minor announcements until IndiGo's big splash late in the Paris afternoon.
IndiGo has nearly 1,000 Airbus jets on order
Airbus snags A350 order; could add more
Boeing announces pilot training deal
De Havilland Canada plans upgraded Twin Otter