By Bryan Corliss
Monday, June 19, 2023, © Leeham News – Airbus landed a huge but widely expected order for 500 A320s from Indian carrier IndiGo, as the 2023 Paris Air Show got underway Monday.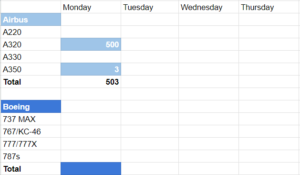 Analysts had issued pre-show forecasts that orders for as many as 3,000 jets will be announced this week at Le Bourget, as airlines place big bets on a continuing industry recovery from the Covid-19 pandemic worldwide.
Despite the lofty projections, the show got off to a slow start, with only a handful of minor announcements until IndiGo's big splash late in the Paris afternoon.
IndiGo has nearly 1,000 Airbus jets on order
Airbus snags A350 order; could add more
Boeing announces pilot training deal
De Havilland Canada plans upgraded Twin Otter
IndiGo now has nearly 1,000 Airbus jet on order
The Airbus deal with IndiGo was widely expected, but monumental nonetheless.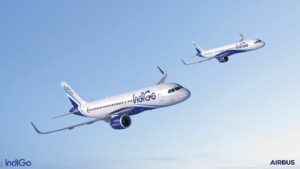 "It is difficult to overstate the significance of IndiGo's new historic order for 500 Airbus A320 family aircraft," IndiGo CEO Pieter Elbers said. "An order book now of almost 1000 aircraft well into the next decade, enables IndiGo to fulfil its mission to continue to boost economic growth, social cohesion and mobility in India."
IndiGo, which now operates a fleet of about 300 aircraft, a mix of A320 models and ATR turboprops. It had 477 Airbus jets on order before today's deal.
The deal comes a few months after IndiGo rival Air India placed an order for 470 commercial jets, split between Boeing and Airbus. It sets the stage for significant growth and a major confrontation between the two carriers and a handful of smaller competitors in a fight for market share in the world's largest country.
Currently, there are about 700 aircraft in the combined fleets of all Indian airlines, which will need to increase infrastructure and hire flight crews and maintenance technicians to support all the new planes coming to them.
IndiGo could be back with another order before the end of the air show. According to Indian media reports, the airline is  in talks with both Boeing and Airbus on a potential order for 20 widebodies. The airline is said to be leaning towards 787s or A350s, but may order A330s, according to the reports.
IndiGo currently wet-leases a handful of Boeing 777s that fly routes between India and Turkey.
Air Mauritius orders three A350s
The first order of PAS 2023 came just after lunch Monday, when Air Mauritius announced it has finalized an agreement with Airbus to purchase three additional A350-900 aircraft. The airline wants the additional widebodies to expanding its network across Europe and South Asia.
The order will give Air Mauritius a total of seven A350s. It is the national airline of the island nation of Mauritius, in the Indian Ocean.
Report: Bangladeshi airline could order A350s
Reuters reported today that state-owned Biman Bangladesh is set to order 10 A350s, quoting a state civil aviation minister. 

It's not clear if the deal will get done this week in Paris, the news service said.
Biman operates a fleet of 16 Boeing jets, a mix of 737s, 777s and 787s.
Boeing signs deal for pilot training   
Boeing and CAE have signed an agreement making CAE the first Boeing Authorized Training Provider to offer Boeing's Competency-Based Training and Assessment (CBTA) curriculum.
It was the only deal Boeing announced Monday.
The companies said they aim to expand access to flight training globally, using digital tools and data for customized training. CAE will initially launch the program in India with plans to expand to other markets.
De Havilland announces Twin Otter update

De Havilland Canada unveiled plans for a DHC-6 Twin Otter Classic 300, an upgraded version of the iconic aircraft. The company says the new model features enhanced performance, new avionics and improved passenger comfort, and is aimed to meet growing demand for reliable regional transportation.

Raytheon reports hybrid-electric milestone
Raytheon said its Collins Aerospace unit had successfully completed a test of its new 1 megawatt electric motor. The company aims to pair that with a thermal engine built by Pratt & Whitney for a system that will be four times more powerful than current hybrid motors, while cutting carbon emissions by 30%.
EVTOL builder predicts hundreds airborne by 2028 
Archer Aviation CEO Adam Goldstein anticipates hundreds or even thousands of electric eVTOLs to be operational during the Los Angeles Olympics in 2028. Archer and Dutch carmaker Stellantis (which owns  brands like Alfa Romeo, Chrysler, Dodge, Jeep, Maserati, Opel and Peugeot) announced construction is underway on their joint eVTOL manufacturing plant in Georgia.
And in football news (soccer for us Yanks)  
Over the weekend, Manchester City — the recently crowned Champions League cup-holders who also were champions of the English Premier League and winners of the FA Cup — announced it has chartered an Atlas Air 747 to fly the team to its upcoming games in Japan and South Korea. The friendlies will precede Man City's campaign to defend its Treble in the 2023-24 season.
Man City, which has a sponsorship deal with Etihad Airways, chartered Etihad's 787-9 with a custom team livery to carry the team back from its recent win over Inter Milan in the Champions League final in Istanbul.