Lights Out: Pride, Delusion, and the Fall of General Electric
By Thomas Gryta and Ted Mann
Mariner Books, $17.99, 361 Pages
The Man Who Broke Capitalism, How Jack Welch Gutted the Heartland and Crush the Sole of Corporate America—and How to Undo His Legacy
By David Gelles
Simon & Schuster, $28.00, 264 Pages
Aug. 1, 2022, © Leeham News: Two recent books about GE and its most prominent CEO, Jack Welch, offer different focus and fascinating insight.
One, Lights Out, is a detailed chronicle of the Welch era and those who followed. This book goes into much more detail than Gelles', which is more of a biography of Welch than a corporate history—although obviously, there is pollination of both.
Gelles, a reporter for the New York Times, goes into some discussion about Boeing and the Welch-influenced people who came to lead Boeing, notably Jim McNerney and David Calhoun. But don't expect Gelles' book to take a deep dive into how Welch's tutelage of McNerney and Calhoun affected Boeing. The discussion is superficial. This is, after all, a book focused on Welch.
Damning picture
Gelles paints a damning picture of how those executives who left GE to become CEOs at other companies by and large wrecked shareholder value (the GE mantra) at their new posts. Ironically, Gelles, for all his criticisms of McNerney, points out that when it came to shareholder value, McNerney increased it at Boeing in contrast to other Welchies.
Lights Out, on the other hand, barely mentions Boeing, and McNerney only is mentioned in passing. Calhoun only gets mentioned once. But the GE story is much more detailed in Lights Out than in Gelles' book. This might be expected when you realize the authors are business reporters for the Wall Street Journal, while Gelles' employer is for a generalist audience.
Gelles' story is more personal about Welch, going to his childhood and giving us a close look at just what formed his personality. He makes a good case about how boards of directors not only sought out GE executives to run their companies, but other firms emulated the GE business model. Lights Out is more of a corporate story.
Culture
Gelles writes about the culture at GE and how it permeated other companies, including a superficial review of the impact on Boeing. Lights Out doesn't specifically make this connection, especially since Boeing is figuratively a footnote. But by reading either or both books, the culture and business practices at GE are very familiar to what emerged at Boeing as the GE practices were introduced first by Harry Stonecipher, also a GE alumnus, beginning in 1997 and followed by McNerney and even non-GE CEO Dennis Muilenburg. This is not a compliment.
A more cutting look at GE's culture comes from an older book, Lessons from the Titans, co-authored by a principal of Melius Research, Scott Davis. Davis recounts how GE tried to get him fired for writing a negative research note while employed by Morgan Stanley. It's something Boeing tried in 2007 or 2008 with a new reporter for Flight International before he reported for work because Boeing was upset with his previous reporting on the 787 development difficulties. The cultural parallels between GE and Boeing recounted in the three books are stark.
Lights Out and the Welch book are worth the read. Lights Out is a bit of a slog. Gelles leaves you wanting more. The choice is yours.
---
Air Wars
My book, Air Wars, The Global Combat Between Airbus and Boeing, tells the story of 33 years of competition between the two rivals and the impact on both of John Leahy during this 33 years. The book is a quasi-biography of Leahy and a follow-on of sorts to the 1982 book, Sporty Game, which at the time was considered the definitive history of the competition between Boeing, McDonnell Douglas, Lockheed and Airbus, which at the time was only 12 years old.
Air Wars is rated 4.5 out of five by readers on Amazon and 4.3 on Goodreads. The book also was rated among the top 10 reads in 2021, including the prestigious Royal Aeronautical Society.
Royal Aeronautical Society
Named to the Top 10 List of Aerospace Books for Christmas Choices, 2021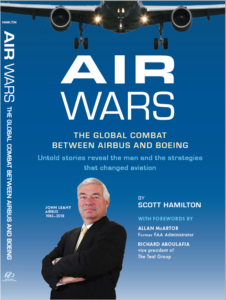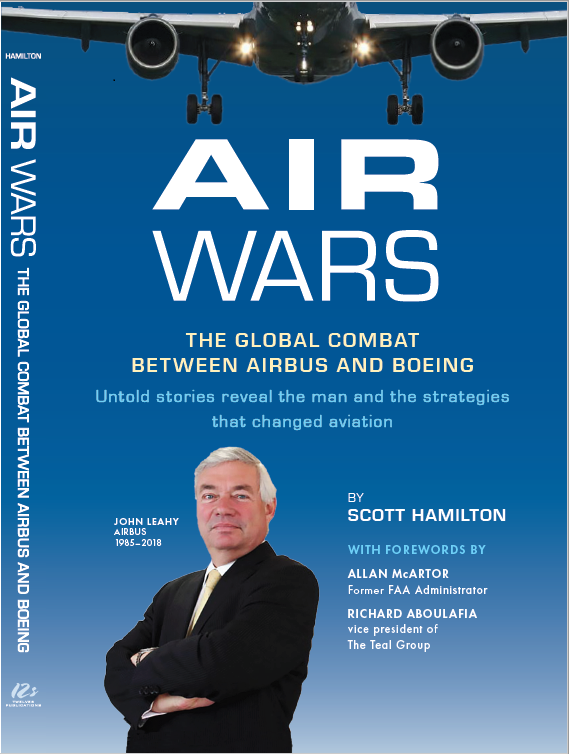 Puget Sound Business Journal
(Seattle area.) No. 1 on the Christmas list of aerospace books for 2021.
BookAuthority
No. 1 on its list of Best New Aerospace eBooks to read in 2022.
Chris Sloan, The Airchive
"A worthy successor to 'The Sporty Game,'" the 1982 book by John Newhouse, considered at the time to be the definitive book about the competition between Boeing, McDonnell Douglas and the emerging Airbus.
Jim Sheehan, Aviation Industry Consultant
There is so much model and OEM information that it is for sure going to become required reading for anyone who wants to understand the last fifty or so years of commercial aviation.
Loved all of the quotes and stories.
Dan Catchpole, Aviation Writer
Air Wars is a tour de force look behind the curtain of Boeing and Airbus' global competition and, in part, a biography of Airbus' head salesman, John Leahy, the man who forced Boeing's hand to re-engine the 737. Longtime aerospace analyst and journalist Scott Hamilton takes readers through the twists and turns of the decades long battle between the two companies.
Dan Reed, Aviation Writer
Using John Leahy's long and monumental career as a vehicle for telling readers about the 51-year battle between Airbus and Boeing is both an interesting and inspired choice by the author.
Air Wars is available in paperback and eBook form at Amazon and in paperback at Barnes & Noble.