By Scott Hamilton
Oct. 27, 2022, © Leeham News: The Boeing Co's research and development spending for the nine months ending Sept. 30 is 10% higher than the same period in 2020. R&D spending for Boeing Commercial Airplanes for the current period is fractionally lower than for the nine months in 2020.
R&D spending in 2020 took a sharp dive as the global COVID-19 pandemic set in beginning in March. With the global 737 MAX fleet grounded (from March 2019) and production halted (from December 2019), CEO David Calhoun took a knife to spending as cash flow dried up.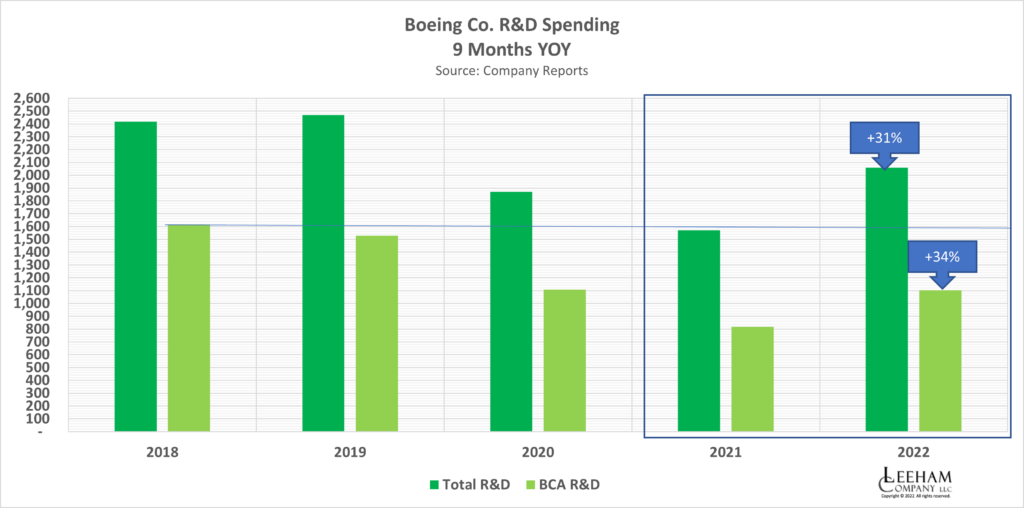 Comparisons to "normal" years
Total R&D spending is still down 16.7% for the current period compared with the nine months to Sept. 30 in 2019. There was no pandemic then and the MAX had been grounded for six months. Production rates were trimmed from 52/mo to the 40s, but then-CEO Dennis Muilenburg remained optimistic the MAX would be recertified soon.
BCA R&D spending in the current period is down 28% compared with the same period in 2019. Muilenburg began to cut spending during the grounding. He was fired in December 2019, when it became clear that there was no end in sight for the grounding and relations with the Federal Aviation Administration frayed to the breaking point. MAX production was halted the same month. Calhoun was named to succeed Muilenburg, taking office the following month.
Compared with 2018, the last normal year before the MAX and COVID crises erupted, the current nine month R&D spending is down 14.8% for the corporation and 32% for BCA.