By Scott Hamilton
Feb. 16, 2023, © Leeham News: Boeing Capital Corp. (BCC) will be absorbed by Boeing Commercial Airplanes (BCA) as Boeing continues to restructure following the 2019 grounding of the 737 MAX, a 20-month suspension of 787 deliveries, the COVID pandemic and challenges in certifying the 737-7, 737-10 and 777X. Airfinance Journal (AFJ) first reported this latest move.
BCC is Boeing's aircraft leasing arm. About 181 airplanes are owned, managed, and ordered by BCC.
BCC's future has been the subject of internal discussion for at least a year. LNA first learned of the discussions last year. Several scenarios were considered, ranging from a spin-off, total sale, partial sale, or a structure that could see Boeing rearranging assets within Boeing Commercial Airplanes (BCA). A partial portfolio sale and retaining certain airplanes appears to be the solution most favored. In recent weeks, multiple market sources indicated some decision was imminent.
Realigning BCC
"We plan to realign the Boeing Capital organization to operate within Boeing Commercial Airplanes, while maintaining strong coordination with Boeing Treasury," said Brian West, CFO of The Boeing Co., in a memo to BCC employees, AFJ reported. "With the vast majority of BCC's work focused on our commercial business, this alignment will help ensure consistency of support to our commercial customers. And as we realign, we will look for ways to simplify the organization and focus resources on our core work of supporting our customers and their financing needs."
AFJ notes that BCC is Boeing's aircraft leasing arm that was inherited in the 1997 merger with McDonnell Douglas Corp. (MDC) Then called McDonnell Douglas Finance Corp, MDFC served as a financier of last resort for poor-credit companies, aircraft trade-ins, and remarketing, and occasionally providing what's called backstop financing for more creditworthy airlines, the trade publication wrote.
BCC historically has been a small part of The Boeing Co's business model. It's not considered core to its business. Following the prolonged 737 MAX grounding, the suspension of deliveries of the 787 from October 2020 to August 2021, the long-delayed certification of the 777X, and the impacts of the COVID pandemic, Boeing began considering alternatives for BCC. These included closing it, spinning it off, or selling its assets.
Liabilities and value impairments
Valuation of the assets was fluid, complicating any sale or spinoff, LNA learned. "BCC's gross customer financing and investment portfolio on December 31, 2022, totaled $1.549bn," Boeing reported in its 2022 10K. "A substantial portion of BCC's portfolio is composed of customers that have less than investment-grade credit. BCC's portfolio is also concentrated by varying degrees across Boeing aircraft product types, most notably 717 and 747-8 aircraft."
Not all airplanes are readily identifiable as part of the BCC portfolio. Some of the assets are in special purpose companies and some are managed by other lessors. Backstop financing and contingent liabilities are understood to be in the billions of dollars, complicating the sale of aircraft. Accordingly, the valuation of all assets and liabilities is understood to be substantially more than the BCC stated value in the 10K if a transaction or realignment is undertaken.
Another wrinkle: The Boeing Co. could have to take an impairment charge of several hundred million dollars against declining aircraft values vs the book value if the deal isn't structured carefully, said a person familiar with the situation. This is a common challenge when lessors consider portfolio sales.
BCC portfolio
The owned and managed portfolio includes just under 100 Boeing 717s, a legacy of the McDonnell Douglas Finance Corp. (MDFC) financing for ValuJet Airlines, the launch customer of what was then called the MD-95. ValuJet suffered a fatal crash of a Douglas DC-9-30 that killed all aboard and which led to the temporary grounding by the Federal Aviation Administration. The airline resumed service and merged with the smaller AirTran, adopting this name because the ValuJet name was irreversibly tainted. ValuJet was unfinanceable, and the MD-95 was an orphan airplane, so MDFC ultimately financed 88 aircraft. BCC retains ownership to this day.
The BCC portfolio includes a few 747-400Fs, 757-300s, a handful of 777-200ERs, -200LRFs, and even stored McDonnell Douglas MD-80s and MD-90s. BCC also had up to 22 787-8s and -9s that were ordered by American Airlines (a few have been delivered). Some were offloaded to BOC Aviation.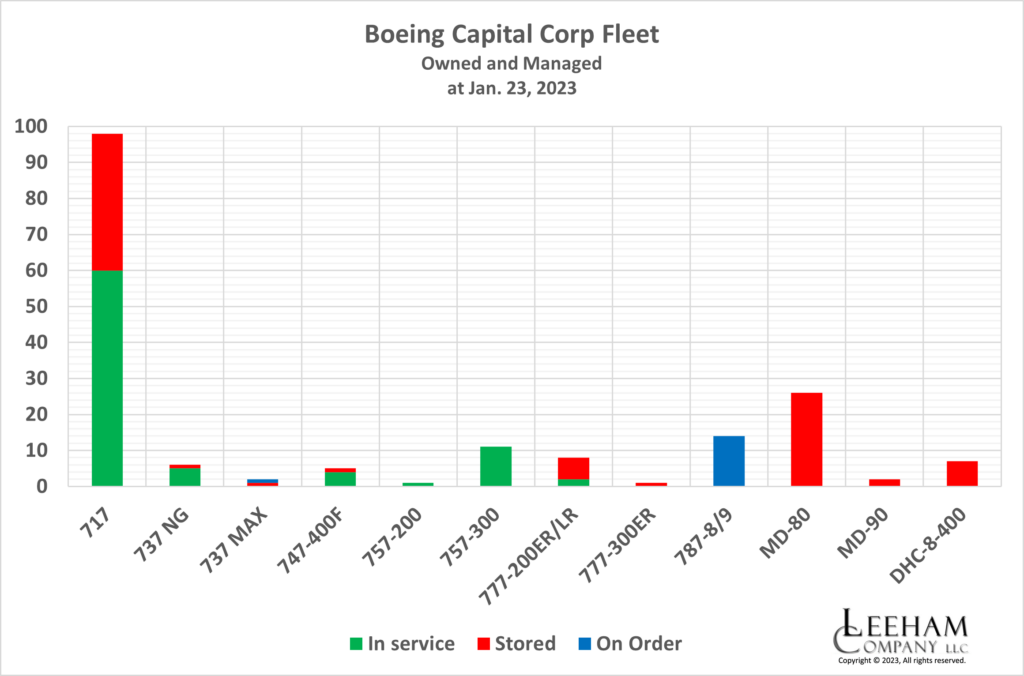 Likely outcome
Discussions on the disposition of BCC gained momentum in the last two months. With BCC CEO Tim Myers' his retirement, which was known in aviation circles but not announced until today,  speculation increased that BCC's future was winding down. Other signs within the industry also emerged in recent days, further fueling the speculation the end was beginning.
Given Boeing's concerns over potential substantial write-offs due to impairment charges and contingent liabilities, it seems likely that a portion of the portfolio will be offered for sale and the financially dicey aircraft will be retained—most likely the 717s. This way, write-downs, and losses can be minimized and managed over time. How much Boeing receives from a sale depends entirely on how many and which aircraft are sold. Proceeds are probably in the upper nine-figure range under this scenario.
Minimizing financing in 2023
Boeing reported in its 2022 10K that financing was minimal in 2022 and may be less this year.
"BCC provided customer financing of $96m during 2022 and none during 2021. While we may be required to fund a number of new aircraft deliveries in 2023 and/or provide refinancing for existing bridge debt, we expect alternative financing will be available at reasonable prices from broad and globally diverse sources," Boeing reported in the 10K.
BCC reported revenues of $199m and earnings of $29m in 2022. Both figures are down from 2021: $272m and $106m, respectively. Financial results in 2022 were affected by lower lease rates and the Ukraine-Russia war.
Boeing's SEC filing listed BCC's asset value at $1.494bn, with cash and marketable securities of $460m. Debt, including inter-company loans, was $1.425bn. Other liabilities, primarily income taxes, were $239m. Boeing listed equity in BCC at $290m.