By Bryan Corliss

May 2, 2023 © Leeham News – Two-and-a-half years ago, a hydrogen-powered regional aircraft for Alaska Airlines was a caffeine-fueled brainstorm, the airline's head of development said. 
Two-and-a-half years from today, the flight of this kind of plane may be close to becoming reality. 
That's how fast the technology is evolving, said Pasha Saleh, who manages Alaska Air Group's Star Ventures investment fund. 
The fund is one of the investors in ZeroAvia's effort to develop a hydrogen-electric turboprop motor strong enough to power regional aircraft. On Monday, ZeroAvia and Alaska unveiled the de Havilland Dash 8 Q400 that will be the testbed for the project. 
VIPs touted the Alaska-ZeroAvia partnership for building the "world's largest hydrogen-powered commercial aircraft."
The goal is to have small aircraft with hydrogen-electric motors flying as soon as two years from now, said ZeroAvia CEO Valery Miftakov. "It's quite aggressive targets that we have, but it can work."
ZeroAvia gives 1.8 MW engine a spin
Alaska sees hydrogen as an option on regional routes
ZeroAvia envisions producing green hydrogen at airports
VIPs laud progress on hydrogen flight
WA Gov. confirms retirement, hints at future 
ZeroAvia gives 1.8 MW engine a spin
Alaska Airlines and hydrogen-power start-up ZeroAvia on Monday announced their partnership in developing a zero-emission airliner. 
ZeroAvia will retrofit a retired 76-seat Q400 – formerly flown by Alaska's regional subsidiary Horizon Airlines – with electric motors driven by hydrogen fuel cells.

The donation was announced at ZeroAvia's research and development site at Paine Field. ZeroAvia also demonstrated its new 1.8 megawatt "MegaCore," a prototype electric motor, which currently is mounted on a 15-ton truck parked next to a Paine Field taxiway. The engine's soft murmur was drowned out by a business jet that took off during the demonstration.
ZeroAvia says that combining the MegaCore motor with a higher-temperature fuel cell and stacks of power inverters will give the company enough power to fly an aircraft as big as the Q400 within a few years. It already has flown smaller aircraft, including a 19-seat Dornier 228 earlier this year.
Fuel cells are not new technology. The idea of combining hydrogen and oxygen together, creating water vapor, heat and a stream of free electrons to be harnessed as electricity, is a proven technology used today in some cars.
However, the specific fuel cell technology used in autos isn't enough to power a large aircraft.
What is new, said Youcef Abdelli, who is ZeroAvia's chief technology officer for propulsion, is that the company has found ways to capture 60% to 65% of the energy generated by the fuel cell. This leads to a more-efficient system that converts more of the electrons to thrust.
Miftakov said ZeroAvia will need to stretch the technology to the 5 MW to 6 MW range in order to fly a regional aircraft like the Q400.
The company also is partnering with Mitsubishi Heavy Industries on a project involving motors for its CRJ series aircraft.  ZeroAvia hopes to have an announcement regarding that soon, he said. 
Miftakov said ZeroAvia expects to have its first hydrogen-electric motors for the general aviation market in about two years. Motors for something powerful enough to fly the Q400 are about five years out, he said. "We see a lot of momentum."
Alaska sees hydrogen as an option on regional routes
The technology is advancing rapidly, said Alaska's Saleh. 
Alaska's involvement started with Saleh and a friend brainstorming over coffee in mid-2020, trying to figure out how to meet the company's ambitious goal of being net carbon neutral by 2040. 
At that time, Saleh said, hydrogen-electric motors were a far-out idea. "Two-and-a-half years ago, it would have been a stretch." 
But today, the airline is looking at hydrogen-electric motors as a viable option for its regional fleet, he said. 
Some 30% of Alaska Air Group's flights are regional, according to a spokeswoman. 
For those kinds of short flights, a propeller-driven, zero-carbon aircraft would be "ideal," Saleh said. It could even open up flights between second- and third-tier airports that aren't affordable to serve with carbon-powered aircraft, given the fuel costs. 
Given that, ZeroAvia's Q400 project is looking like "the right aircraft for the right mission," he said. "This is a really promising thing." 
ZeroAvia envisions producing green hydrogen at airports
ZeroAvia is not the only developer of hydrogen-powered aircraft powerplants. On March 2, Universal Hydrogen flew a modified Dash 8-300, which nominally holds 37 passengers, on a demonstration flight from Grant County Airport in Moses Lake, WA. 
ZeroAvia and Universal Hydrogen have very different approaches to getting the hydrogen to the aircraft however.
Universal Hydrogen envisions using electrolysis to generate separate hydrogen from water at centralized sites, then filling large canisters of compressed hydrogen to be delivered to airfields, where ground crews would swap full canisters for empty ones between flights.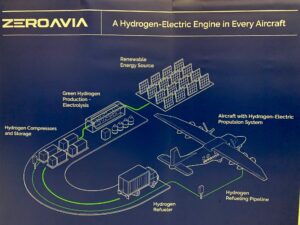 Materials posted at Monday's demonstration show that ZeroAvia is proposing to generate green hydrogen on each airport, using an array of renewable electricity generators (such as solar panels) to generate the energy needed to separate the hydrogen and oxygen molecules in water.

The hydrogen then would be compressed onsite and pumped through lines to refuel aircraft, not too much unlike the way current commercial jets are refueled with Jet A.
The disadvantage to the ZeroAvia concept would be that each airport would need to develop its own dedicated hydrogen infrastructure, and would need to dedicate land for the solar arrays. 
VIPs laud progress on hydrogen flight
There may be U.S. government support for such projects.
U.S. Congresswoman Suzan Del Bene (D-WA) said during Monday's ceremony that she has introduced legislation that would direct the U.S. Departments of Energy and Transportation to work more closely together to support the development of carbon-free powerplants for ships and aircrafts. 
She also said she supports tax credits for hydrogen technology development.
Washington Gov. Jay Inslee, another Democrat, said he already has funneled $700,000 from the state's Strategic Investment Reserve into ZeroAvia's development project. 
And Snohomish County Executive Dave Somers, whose local government owns Paine Field, noted that in March, the airport had announced a partnership with Washington State University to open a first-of-its-kind Sustainable Aviation Fuels R&D center that will collect, test and distribute various types of SAF for use in large aircraft.
The area around Everett is becoming a hub for sustainable aviation initiatives, Somers said. "We're really excited to be a part of the future of aviation." 
Along with public-sector support, ZeroAvia is backed by the Bill Gates-led Breathrough Energy Ventures, a $2.5 billion venture capital fund that is investing in climate-friendly technologies globally.
"Aviation is one of those really hard problems where we have a long way to go," said Matt Eggers, a Breakthrough partner. 
ZeroAvia is one of the projects that his fund sees having potential to achieve climate goals while also generating "a very positive return on capital," he said.
"I think they will," Eggers said. "I think this is it."
WA Gov. confirms retirement, hints at future
Monday's ceremony started late, after Inslee announced Monday morning that he would not seek an unprecedented fourth term as Washington's governor in 2024. Inslee, who is currently the nation's longest-serving governor, is only the second Washington politician elected to three terms as governor. Washington state does not have term limits.

After the ceremony, he told Seattle-area reporters that while "I love my job," after a decade in office he's realized that it is "time to pass the torch."
He is not planning a leisurely retirement, however. Inslee, who had a short-lived 2020 presidential campaign that focused on climate change issues, said he would seek out a new career supporting the green energy industry. 
"I have too many strong feelings about the necessity of beating climate change," he said. 
During the ceremony, he recounted a recent snowshoeing trip in Mount Rainier National Park, where rangers told him that the iconic peak's glaciers have lost 50% of their volume in his lifetime. 
He gestured to the ZeroAvia testbed and declared that "this airplane is a way to save the glaciers on Mount Rainier," while also preserving riverine habitat for endangered salmon and stopping the forest fires whose smoke has choked Washington residents in recent years.