Sept. 19, 2023, © Leeham News: It's September 2023, one year ahead of the expirations of the current labor contracts between Boeing and its touch labor union, IAM 751. (The contract with the engineers union, SPEEA, expires in 2026.)
The IAM district, whose members assemble all Boeing airplanes in Washington State, fired a warning shot across Boeing's bow last week. It wasn't the first.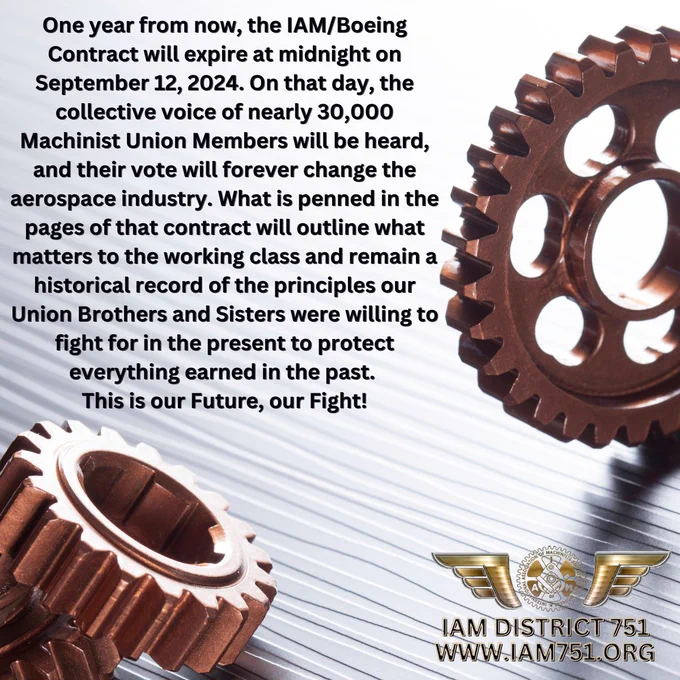 751 urged its members to begin saving money in anticipation of a strike in September 2024. That was three years ago.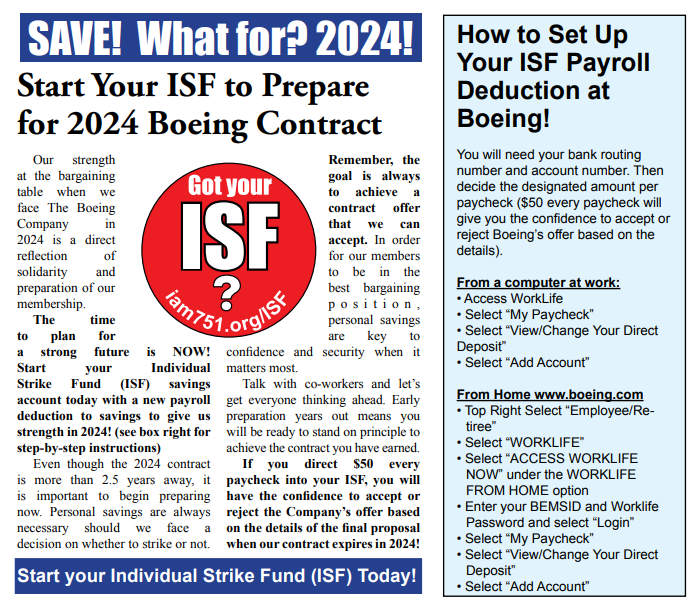 The strike fund information appeared in the 751's March 2020 newsletter, Aero Mechanic. The same issue had commentary about the new pandemic. At that point, nobody thought the pandemic would last two years.
Boeing was already in trouble then. The 737 MAX had been grounded since March 2019. There was no end in sight when the grounding would end. Suspension of the 787 deliveries, for what became 20 months, was still another half-year away.
Poor financial picture in 2020, not great today
Boeing's financial picture deteriorated dramatically. The company took on billions of dollars in new debt to survive. At the end of the second quarter, Boeing had $47.7bn in long-term debt. It had $14.9bn in long-term debt on June 30, 2019; the MAX had been grounded for 3 ½ months and COVID wasn't even a gleam in the eye then. Boeing had $4.6bn in short-term liabilities, including the current portion of long-term debt, at the end of the second quarter this year.
Consistent profits are still elusive, and officials warned that another quarterly loss will be forthcoming in the current, third quarter.
How could 751 advocate in March 2020 that members begin building their own strike fund, given Boeing's position then? How can 751 be telegraphing an aggressive position now, when Boeing's financial position, production, deliveries, and profitability are still far from returning to normal?
In 2022, I asked Jon Holden, the president of the 751 District, this very question in an interview I did for a new book I'm writing about Boeing.
It's unclear when negotiations will begin with 751 (or, for that matter, with SPEEA). The IAM has provisions in its contract that call for sending notifications to open up the agreement and begin bargaining. The old one will expire and the new one will be negotiated.
Given Boeing's current financial position and the realities of production, deliveries, and erratic profits, one might expect Boeing to plead it's in no position to be generous.
Additionally, even though there is no timetable set for a new airplane program, it's pretty clear that one must be announced as early as 2027 if entry-into-service is to be achieved by the middle of the next decade. This is the EIS target pronounced by Boeing CEO David Calhoun.
Holding a New Airplane Hostage
I've no doubt that Boeing will hold a new airplane hostage to a new contract executives consider favorable to the company. This is as sure, in my mind, as the sun rising in the East and setting in the West.
In 2009, when  Boeing realized it needed a second assembly line for the 787, officials vowed to establish the line in Charleston (SC) if 751 didn't make amendments to a contract that was already in place. The district made several offers, which Boeing rejected. (Looking back, it was clear that the decision to put line 2 in Charleston was already made and nothing 751 could offer would change this.) Washington State was also manipulated in the process. Politicians were told the second line's location was contingent on the unions. So Washington didn't offer new incentives. South Carolina ponied up nearly $1bn in incentives. Washington State politicians were blunt in feeling that Boeing executives lied to them.
In 2011, when Boeing launched the MAX program, then-CEO Jim McNerney threatened to establish the MAX line in a location other than Renton (WA), where the 737 had been assembled for nearly 43 years. (Initially, the 737 was assembled at Boeing Field before being moved to Renton.) Establishing a greenfield final assembly line made no sense at the time. This time, 751 granted acceptable concessions.
A hostage too many
In 2013, with the launch of the 777X, Boeing was at it again. Executives began soliciting other states to build a new 777 factory. Some at 751 thought Boeing was bluffing, because—as with the 737—it made little sense to create a greenfield site. And, they noted, Boeing was already working on the site preparation for what was to become the Composite Wing Factory next door to the current widebody assembly plant in Everett (WA).
The 751 membership voted down controversial contract concessions. Boeing execs then went over the local district's head to the parent "International" IAM, which could overrule any local at its own discretion. A second vote, in January 2014, was scheduled the day after the Christmas and New Year holidays. The timing was, in the view of some 751 members, intended to suppress voting as members trickled back from vacation. By the narrowest of margins, the contract concessions were approved.
Now, 2024 is viewed as recovery time. And Boeing will almost certainly hold the new airplane out as it has in the past. Vote our way and you get the airplane. Don't and you won't.
751's outlook
Holden, in my interview in October 2022, said he knew nothing about the timing of a new aircraft. But it's obvious that any program launch will come during the next contract.
"I know that when we get into bargaining, the next airplane programs will certainly be part of the discussions. We will make it part of the discussions," Holden said in our interview.
As for the 2020 message to members to begin building their own cash cushion in advance of 2024 negotiations, Holden explained, "The message is really about in order to be successful in contract negotiations, our members have to be financially secure. It's important that they save for contract exploration.
"There's a whole lot of great things that happen when a family can save a little bit of money and be prepared and stand on principle. When you're making a decision on whether you should give up reasonable things that a company is overreaching to take away, your financial stability at that time is very critical. Our goal is to reach a contract without having to strike. It is not our goal to be on strike. The livelihoods of 28-29,000 families are in the balance at that time and in a strike," Holden said.
Boeing's outlook
Although Boeing today is a shadow of itself at the end of 2018 when (to mix a metaphor) it was humming along on all cylinders, executives are optimistic. Calhoun and the CFO, Brian West, guide Wall Street and shareholders that it will be back reasonably close to normal in the 2025-2026 timeframe. They forecast free cash flow of $10bn. This figure is well below the 2018 cash flow. But Wall Street was giddy with the Nov. 2, 2022, projection and lost no time in boosting the stock by 18% in the following week.
These optimistic projections are hardly lost on the 751 leadership—or its membership.
"The reasonable things that we're asking for will bring stability. Asking for more concessions on top of an overreach from 2014 [the 777X vote] doesn't bring stability. If that's the direction they go, then I know that it's going to be a rough patch, rougher than it already is," Holden said.
"There's still a lot of anger over the loss of the pension, the defined benefit pension from 2014," Holden continued. "The economics that the company won in that agreement should be able to carry the company through profitability in the future and it should be the reason that they place the next airplane programs here. They need to maximize the infrastructure we have here."
---
Related Articles
---
As LNA wrote recently, history is repeating itself in the airline industry. The United Auto Workers union wants to recover its defined pension benefits in the next contract with Ford, Stellantis (owner of Chrysler and Jeep), and GM. The Yellow trucking company filed for bankruptcy after its unions threatened to strike. Boeing supplier Spirit AeroSystems suffered a one-week strike when workers rejected the agreement negotiated by its leaders, who recommended approval.