By Bryan Corliss
April 22, 2019, © Leeham News:  Electric aircraft motor builder MagniX will celebrate Earth Day today by announcing it has been chosen as one of two powerplants for Eviation Aircraft's proposed nine-seater Alice passenger plane.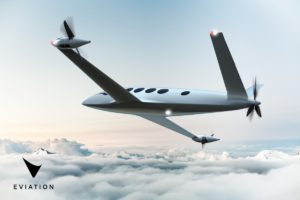 "We have been successfully testing the MagniX system with our Alice aircraft propeller for quite some time now with great results," Eviation Chief Executive Omer Bar-Yohay said in a statement.
The MagniX motor has more than 1,500 hours on a test stand, according to Roei Ganzarski, who is CEO of the suburban Seattle engine-builder.
The Alice is a clean-sheet electric aircraft design developed by Eviation, an Israeli company that has established a testing/production facility in Prescott, AZ. Eviation has announced plans to fly the Alice at Le Bourget this summer.