By Bryan Corliss
April 22, 2019, © Leeham News:  Electric aircraft motor builder MagniX will celebrate Earth Day today by announcing it has been chosen as one of two powerplants for Eviation Aircraft's proposed nine-seater Alice passenger plane.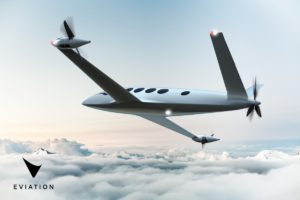 "We have been successfully testing the MagniX system with our Alice aircraft propeller for quite some time now with great results," Eviation Chief Executive Omer Bar-Yohay said in a statement.
The MagniX motor has more than 1,500 hours on a test stand, according to Roei Ganzarski, who is CEO of the suburban Seattle engine-builder.
The Alice is a clean-sheet electric aircraft design developed by Eviation, an Israeli company that has established a testing/production facility in Prescott, AZ. Eviation has announced plans to fly the Alice at Le Bourget this summer.
2021 certification
The first plane is being assembled in Vannes, France, according to published reports. Honeywell is supplying the flight deck and a custom fly-by-wire system. Eviation says it's on track to have the plane certified in 2021 and in service by 2022.
"We will begin manufacturing battery-powered fleets this year for our U.S. regional carrier customers," Bar-Yohay said.
MagniX is supplying its 375-horsepower motors for the plane and will be one of two options for buyers (the other being a 350-hp motor from Siemens). Eviation has not announced any deals for the Alice, but Bar-Yohay told Flight Global in January that the company had "sold a number of aircraft" and would announce the deals at the Paris air show, where Eviation will have its own chalet.
Return of the tri-motor
The Alice will be a tri-motor, with three pusher propellers: two mounted on the wingtips and one on the tail. Eviation says mounting propellers on wingtips cuts the wingtip vortex that creates drag.
The plane is designed to have a range of 540nm to 650nm (that's roughly 1,000km to 1,200km, or 620sm to 750sm). With that kind of range, the plane could serve city pairs like New York-Chicago, Tokyo-Seoul and Paris-Rome. It conceivably could do San Francisco to Los Angeles and back on one charge.
The value proposition: Operating costs that will be as much as 70% lower than comparable nine-seat turboprops, along with the promise of emission-free flight.
"Our goal is to undercut the cost of commuting by making middle mile trips cheaper, faster and cleaner," Bar-Yohay said.
Harbour Air
In March, MagniX announced that it had been chosen to retrofit its electric motors onto de Havilland Beavers operated by Canada's Harbour Air, which bills itself as the world's largest seaplane airline.
"We will see all-electric planes powered by our propulsion systems go into commercial service by 2022," Ganzarski said.