April 22, 2019, © Leeham News: The European Union late last week released its list of US goods, including non-military airplanes (read: Boeing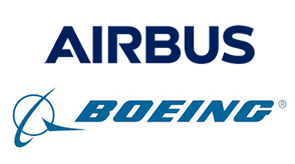 airliners) that will be subject to tariffs if the US proceeds to levy tariffs on $11bn in goods.
The EU upped the ante, valuing its list at up to $20bn.
The EU's list is here. The US list is here.
Tit-for-tat
The tit-for-tat goes to the 15 year international trade dispute between the US (Boeing) and Europe (Airbus).
The World Trade Organization ruled that neither side has fully cured illegal subsidies and tax breaks. The amounts are subject to further review by the WTO.
Airbus claims "at least" $15bn in harm; Boeing claims $11bn in harm.
Airbus in the past, and continues to do so now, urge a negotiated settlement. Boeing and the US Trade Representative reject these entrees.
Before the tariffs may be implemented, the WTO must decide the amount of "harm" each side suffered and authorize the tariffs.