April 9, 2019, © Leeham News: The European Union is likely to seek stiff tariffs against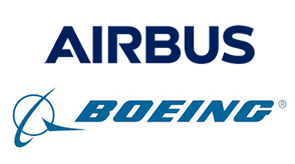 Boeing and other US exports in retaliation for the Trump Administration's announcement yesterday it proposes $11bn in tariffs against Airbus and European exports.
The Trump tariffs are proposed in connection with a World Trade Organization appeals finding that Airbus failed to cure illegal subsidies for the A380 and A350.
Last month, the same WTO appeals process found Boeing and the US failed to cure illegal tax breaks to Boeing. Airbus claims at least $15bn in harm from these in lost sales.
Neither the US nor the EU may impose the tariffs in advance of yet another round of WTO proceedings. The disputes already have gone on for 15 years.
Taxing wings, fuselages and components
The Trump tariff list, here, proposes taxing not only Airbus airplanes and helicopters not used for military and Coast Guard purposes but also components, wings, fuselages and other structures that Airbus imports into the US for its Mobile (AL) A320 final assembly line.
The list lumps the United Kingdom in with other EU states, France, Germany and Spain. The UK's Wales is a major wing producer for Airbus. Northern Ireland, which is part of the UK, produces wings for the A220. It's not clear if these would be included, and the UK's looming exit from the EU clouds the issue. E the violations occurred during UK's membership in the EU, would tariffs be levied on its goods and components or not?
Retaliation
Airbus immediately responded to the Trump tariff plan by saying the EU will retaliate.
Boeing doesn't assemble airplanes in Europe but it has a major customer base for its 7-Series airplanes. Ryanair is a huge 737 customer, with a major outstanding order for the 737 MAX 200. Lufthansa Airlines is a launch customer for the 777-9; first deliveries are due next year.