We're at the US Airways Media Day and we'll provide updates throughout the day.
First up is Doug Parker, CEO of US Airways and the new CEO of American Airlines when the merger is consummated.
Doug Parker:
This media day is a little bitter-sweet. It's the last one we will do here in Phoenix. (This is #13.)
We've talked about consolidation over time, how US didn't have to participate but would be better if it did. We talked about what the industry needed to do to be better. We talked about a lack of focus on labor, which was dysfunctional, a lack of discipline. The industry was improving on all fronts. Today the industry is much better with the exception of government policy.
In 2010 I talked about the lack of profitability with oil a problem.
In 2011 talking about how the recovery was real, in good and bad. Oil prices was as high as in 2008. US made over $100m, a $1bn turnaround from 2008.
In 2012 we talked about how we were in a position to make a choice for a merger, not because we had to.
What encapsulated things was a question last year is what motivates you. It's we like to do what we are really good at, we like to win. In 2001 I was named CEO on Sept. 1. We felt good about our prospects. 9/11 happened. Some financing fell away.  We were told 'no' for Federal aid. I told a flight attendant on the flight back we'd have to file bankruptcy. The flight attendant said we can't do that. There are no other options for me (the flight attendant). I realized this isn't about me, this is about our employees, those we serve. Our job is to make sure we're doing everything we can to provide for them. By the time we landed I decided we were not going to file bankruptcy then. We worked all weekend and came back to Washington and got the loan.
Now in 2013: A lot of what we've been doing the past year has been written about so I don't need to recap that.
We have an incredible US Airways team. The last year the focus has been way too much on me, not the people of the team. I had less to do with this merger than those like Scott Kirby, Derek Kerr [and others] who talked with labor, the banks, the politicians, suppliers, [etc.] None of them has gotten the credit they deserve.
We could not let people of AA and US down as we worked through the merger talks. Some people would stick their necks out for us, generally the labor people, in public statements, hiring advisors. Untold story is how labor supported us.
Now looking toward future. The things that got us here in the past will apply to the future. Really good management–we'll take the best of the best between US and AA. Focus on the customer. Focus on engaging the employees.
Relationships matter. We have many new relationships that are beginning. Treating people with respect. Integrity. Building new relationships. We now have a lot more people to assure they have jobs and they have great jobs. They put their trust in us, they are counting on us and we're not going to let them down.
Scott Kirby, President
American Airlines restructuring returns 100% to the shareholders, instead of being wiped out; creditors recover more than other airline restructurings.
American is the best name brand in aviation.
This merger creates three airlines of similar size (AA, UA, DL) with AA being the largest.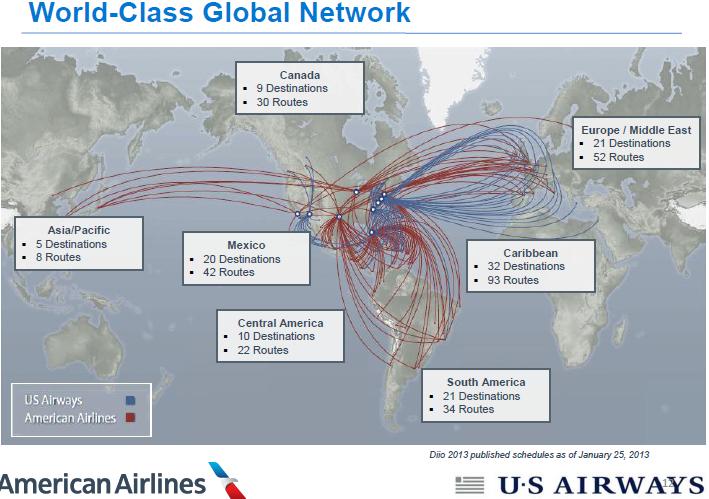 We're #1 in East Coast and Midwest, #3 in the West.
We'll have the largest frequent flier program in the world.
We'll have just over 1,500 aircraft (948 mainline, 563 regional)
Looking for $1bn ion synergies. It's conservative compared with what's happened in the past.
Derek Kerr, EVP and CFO:
Ancillary revenue added: GoGo Inflight Wi-Fi; Choice Seats; On-Line pre-pay bags; Preferred Access; Premium snacks and beverages.
Estimate $600m in ancillary revenue this year (probably the airline's entire profit–Editor).
Assume we will have $100bbl oil.
Southwest CASM costs (ex fuel, special items) up 20.8% in last five years, on stage-length adjusted basis. USAir up just 1.4%. Southwest leads the entire US legacy carrier group in increased costs. JetBlue up 15.8%.
All US aircraft financed through June 2014. Aircraft beyond that have backstop financing.
We're holding cash and maintaining as much cash as possible before going into the merger. Have cash transition costs of $1.2bn going into the merger. Debt reduction has been driven by earnings, not pre-paying down debt. After merger, after benefits, will start pre-paying debt.