Special to Leeham News and Comment:
Vinay Bhaskara of Aspire Aviation has provided the following analysis of the A350 XWB sales, on a variety of metrics, exclusively to us.
Analyzing the A350 Backlog
With the recent order for 31 A350s from Japan Airlines, we thought it would be instructive to take a look at the A350's backlog. To date, the A350 has won 759 orders from 39 different customers (we are excluding Kingfisher Airlines in India and its order for five A350-800s – Kingfisher has been shut down for more than a year now, and it's chances of re-starting appear bleak).
After slow sales in 2011 and 2012, 2013 has been an excellent rebound year for the A350, its second best behind 2007, with 182 orders to date. We expect South African Airways to place its delayed order for the A350s by the end of the year, and there are several upcoming fleet replacement decisions, most notably at ANA and Qantas, in which the A350 is a major player. The chart below shows A350 orders by year since it launched: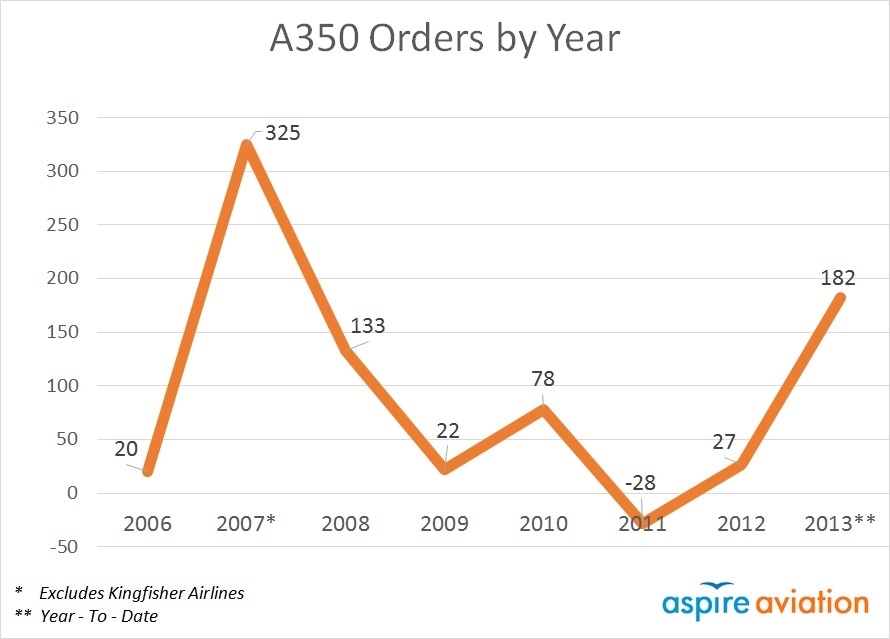 Digging further into the backlog, the following two charts discuss the geographic breakdown of the A350's orders. Asia and the Middle East currently account for more than 55% of the program's orders, and it has made limited inroads in the Americas relative to the 787.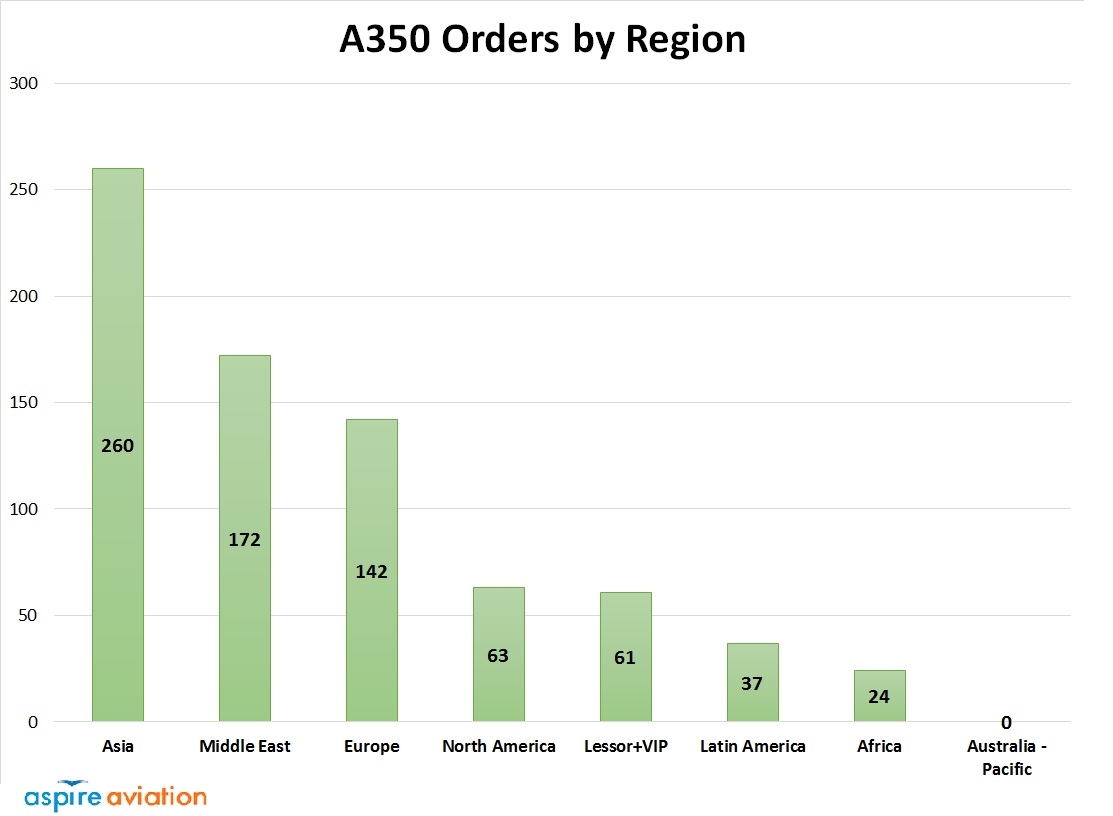 .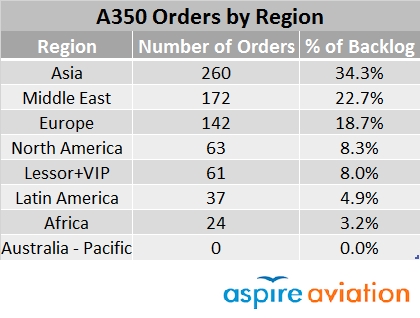 The backlog recovery has been particularly pronounced for the A350-1000. As recently as two years ago, there were major questions surrounding the A350-1000, but since then, it has won several high profile 777 and 747 replacement battles, including Cathay Pacific, British Airways, and now JAL. The A350 program backlog by variant is presented in the following chart: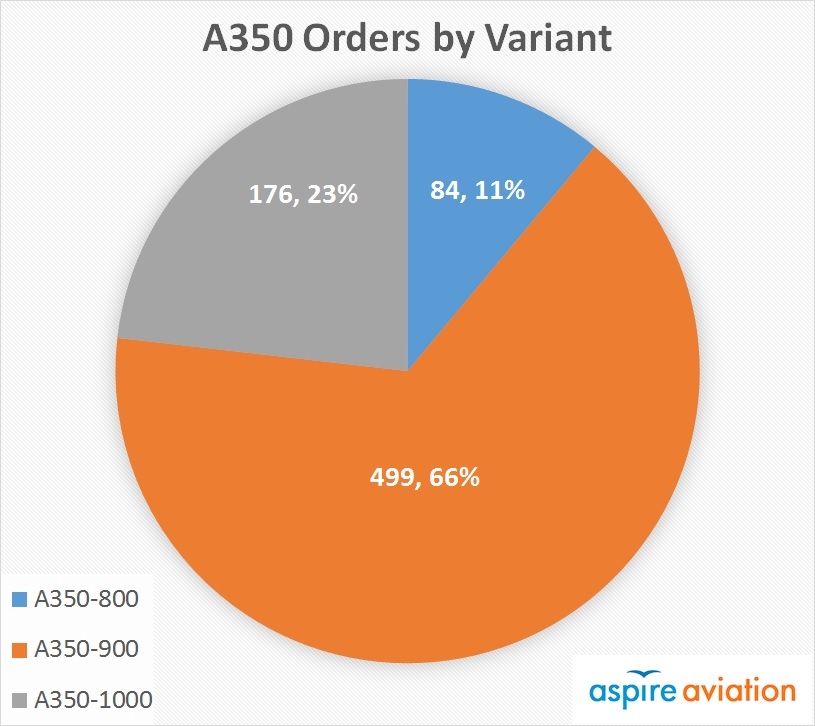 This chart does highlight the ever-growing weakness of the A350-800. With a backlog of just 84 frames and a spate of cancellations and conversions to the larger A350-900, it will be interesting to see what action Airbus takes on the A350-800. We expect US Airways, the type's largest customer, to convert to the A350-900 if the merger with American to go through so as to avoid overlap with the 787-9. That might be the death knell for the A350-800.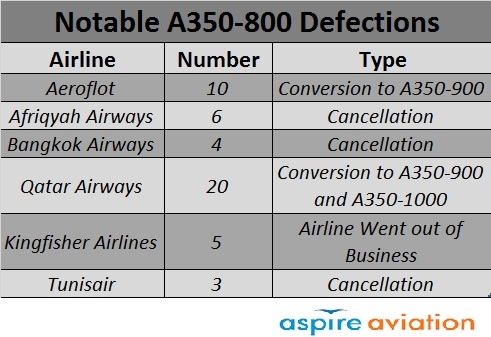 The following table outlines the planned mission for every current A350 order on Airbus' books. The table splits orders for different variants by the same carrier into distinct order entries with differing missions, except in the case of Aeroflot, where the mission is common across the two variants.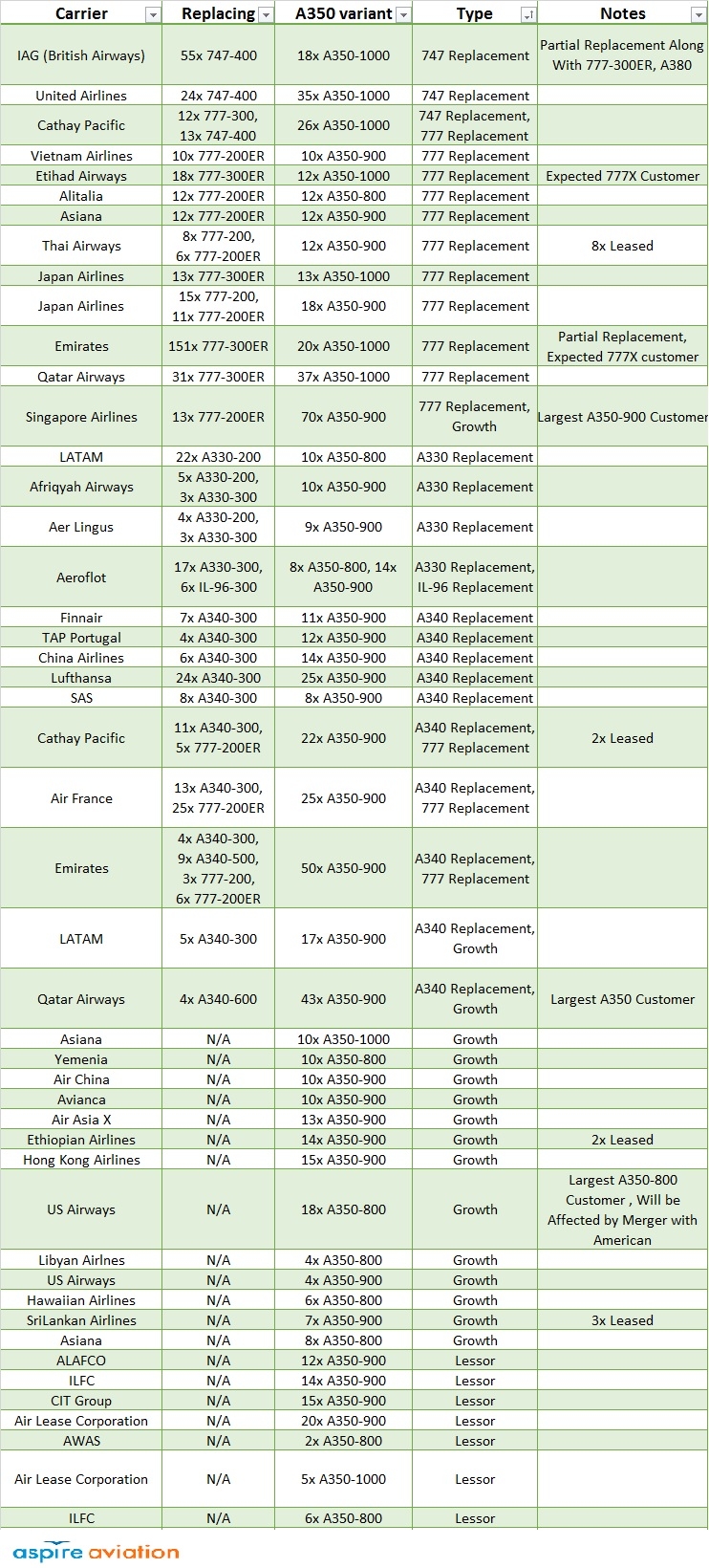 The following table summarizes the orders by mission type. Of note is the fact that the A350 has already won several major 777 replacement battles.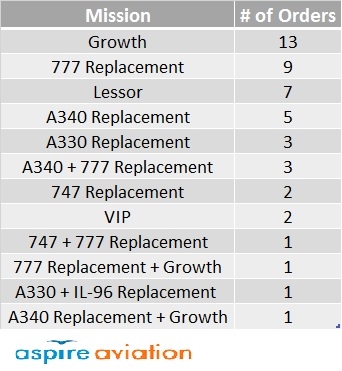 *************************************************