Feb. 12, 2015: Alain M. Bellemare, 53, was named president and CEO at Bombardier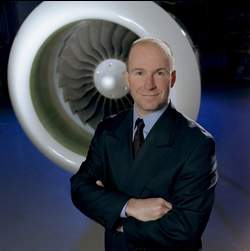 , it was announced today ahead of the company's 2014 earnings call. The appointment is a move to restore confidence in Bombardier, its Aerospace division and the CSeries program.
Stakeholders in the CSeries program we had talked to expressed a desire for Pierre Beaudoin, who has become executive chairman, to step down.
According to Bloomberg Business, Bellemare has been consultant at United Technologies Corp. since January 31, 2015. He previously was President and CEO of UTC Propulsion & Aerospace Systems from July 26, 2012, to January 31, 2015. He also served as the president of Pratt & Whitney Canada and a number of other executive positions.
Beaudoin, previously CEO of Bombardier, faced an increasingly difficult leadership vacuum at Bombardier Aerospace as a revolving door of executives came and went during the course of the last several years. As we reported yesterday, a real crisis in confidence among customers has developed.
Bellemare's long experience at Pratt & Whitney, including PW Canada, where the CSeries' Geared Turbo Fan engine is built, will undoubtedly be viewed with favor among these customers. One industry official called Bellemare a "heavy hitter."
Last December, the new CEO of PW's parent, United Technologies, said research and development funding would be cut back and PW would not be allowed to pursue development of a "big engine" GTF.
NASDAQ.com reported at the time that, "United Technologies said Alain Bellemare, who had overseen both the Pratt and UTC Aerospace Systems businesses, would leave the company and that his position would be eliminated in favor of more direct lines of oversight between Mr. Hayes and the individual business units."
Bombardier still targets entry-into-service of the CSeries later this year, but one key customer believes the schedule will slip to the first quarter next year. Richard Aboulafia, a consultant wit the Teal Group and a long-time critic of Bombardier's sales and management of the program, yesterday predicted EIS will be mid-2016. Aboulafia made his forecast at the Pacific Northwest Aerospace Alliance conference in Lynnwood (WA).