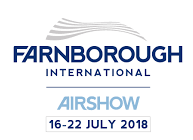 July 15, 2018, © Leeham News, Farnborough: Embraer today revealed that the E190-E2 achieved better fuel burn than its target of 16%.
Flight tests showed fuel burn was 17.3% better than the E1, said Rodrigo de Souza, VP Marketing in a press briefing in advance of the official show opening tomorrow.
Wideroe Airlines, the launch operator of the E190-E2, now has three in service. De Souza said initial analysis of the operations show fuel burn is even better than the flight test results, but he declined to be specific until more operations are completed with more airplanes in a few months.
Embraer claims fuel burn is 10% better than the Airbus A220.
Wideroe's small fleet has completed 800 flight hours at an average of seven hours a day. In eight out of 11 weeks, the fleet had 100% dispatch reliability, he said.