September 3, 2020, © Leeham News: Airbus and its subsidiary Satair announced today it has integrated one of the last pieces of Bombardier's engagement with the A220, the spare parts distribution.
Airbus acquired Bombardier's part of the A220 aircraft program in January, but Bombardier continued to purchase, stock, sell and distribute the A220 spare parts. From the 1st of July, this is handled by Satair, part of the Airbus group, to give airlines with Airbus aircraft a single point of contact for spares part services.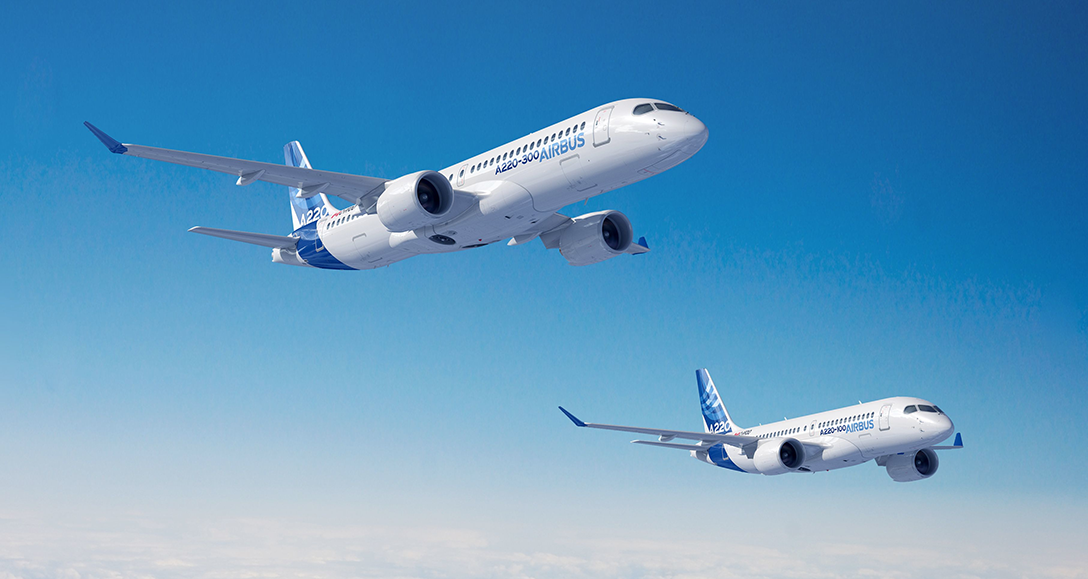 Satair handles all spare parts supply for Airbus
Satair A/S was formed in 1957 in Copenhagen by ex. SAS people. Its business of purchasing, stocking, selling, and supplying airliner spare parts to airlines around the globe grew gradually.
Over time the company bought local companies in Europe, Asia, and the Americas to have a local presence to better serve an expanding customer base.
By 2011 Airbus bought Satair and three years later, Airbus merged its spare parts arm, Airbus Material & Logistics Management, into Satair, forming the Satair group. All spare parts distribution for Airbus is from then handled by Satair Group.
The Bombardier CSeries becomes an Airbus aircraft
When Airbus and Bombardier entered into a joint venture around the CSeries in July 2018 with Airbus as a majority owner, the aircraft was named A220, signaling it was an Airbus aircraft. But all production activities except the final assembly were still handled by Bombardier. So also most of the support and the spare parts supply.
Gradually Airbus built the team around the aircraft in Mirabel as Airbus Canada, combining CSeries and Airbus people. In January, Airbus bought Bombardier's stake in the program and now owns 75% with Investissement Quebec owning the remaining 25%.
More and more of the support migrated to the new Airbus team and by the 1st of July, the last piece, the spare parts supply started the transition to the Airbus group.
In practical terms airlines now order new spare parts from Satair instead of from Bombardier Parts Services. Satair has built a spare parts stock with 50% more parts than previously held by Bombardier, explains Satiar's CEO Bart Reijnen:
"Satair's footprint of service centers and warehouses will contribute to a greater scope of spare parts available for all A220 operators. Customers can look forward to leveraging Satair's global presence and we are very proud to be supporting the A220 aircraft with our strong Satair organization. Over time, as the A220 fleet grows and also gains in maturity, we will develop areas such as parts lease, repair, and exchange for the A220."
The transfer represents one of the last steps in the integration of the A220 program says Airbus Rob Dewar, Senior Vice President A220 Customer Services, Customer Satisfaction, and Product Policy. "All A220 customers will benefit from the same level of service and global network offered by Satair on all other Airbus platforms. This is a significant contributor to improving the overall satisfaction of our growing A220 customer base worldwide."
Parts that are of higher complexity, so-called Rotables, are overhauled when worn or faulty and then stocked for new service aboard an A220. This activity is handled by an Airbus organization, Airbus Flight Hour Services.