The future of regional jets is limited by choices, Scope Clause
By Judson Rollins
Introduction 
July 6, 2020, © Leeham News: The fallout from COVID-19 is beginning to intersect with the beginning of a wave of regional jet retirements globally. However, the market for smaller commercial jets today stretches the meaning of "regional" as most aircraft still in production have 100+ seats and can fly more than 2,500nm.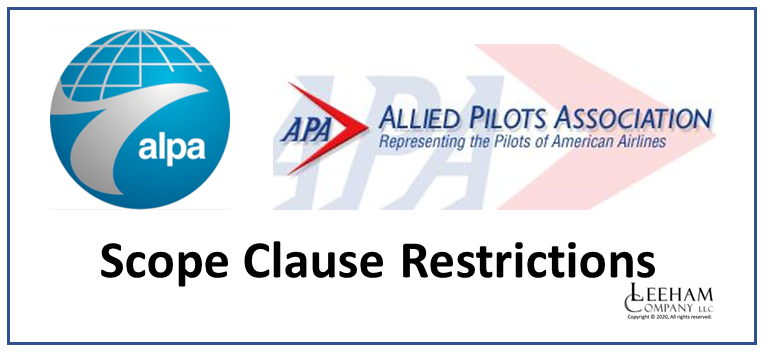 In the critical US market, both Embraer's E175-E2 and Mitsubishi's remaining M90 are too heavy to comply with the Scope Clause limits imposed by pilot labor agreements. These clauses restrict regional carrier flying to 76 seats and 86,000 lbs MTOW, while also capping the number of regional jets that can be flown by each carrier.
Delta Air Lines is limited to a total regional fleet of 450 aircraft, while American Airlines is capped at 75% of its single-aisle fleet and United Airlines is limited to 255 aircraft plus 90% of single-aisles in service. Earlier this year, American accelerated the retirement of some EMB-140s to maintain compliance with its limit.
Summary
Regional jet utilization will be lower in the near term due to higher unit costs and US Scope Clause fleet limits.
There will still be some replacement demand for regional jets over the next decade.
Scope Clause relief is unlikely to happen in the coming round of US pilot contract negotiations.
Lack of Scope relief will extend the life of Embraer's E175-E1 through the 2020s.
To read the rest of the article Login or Subscribe today.
Category: Bombardier, Comac, Embraer, Mitsubishi, Premium, Sukhoi
Tags: ARJ-21, Bombardier, CRJ, E-175, Embraer, M100, M90, Mitsubishi Aircraft Corporation, Regional Jets, Scope clause, Section 1113, SSJ-100