March 26, 2015, update 3: The Marseilles prosecutor Brice Robin confirmed mid-day that the co-pilot, Andreas Lubitz 28, from Montabaur Germany, deliberately put the autopilot on descent in an act to crash the aircraft.
The prosecutors office has a full transcript of the Flight Voice Recorder's recording on what happened in and around the cockpit of 4U9525 until impact with ground. He says the co-pilot' breathing could be heard on the recording at all times but he did not say anything. He was therefore alive at the impact with ground.
Separately Flightradar24, which has a private receiver network for the aircraft's intelligent transponder of type ADS-B, has now confirmed that they can read out that the aircraft's autopilot was manually changed from 38,000 to 96 ft at 09:30:55 UTC.
The accident is now turning from an involuntary to voluntary manslaughter investigation says the prosecutor. He further revealed that calls from ATC and the Captains efforts to enter the cockpit could be heard as could the autopilots "Pull Up, Pull Up" as the ground proximity warning triggered. He said that passengers apparently did not understand what was happening until just before impact when screaming could be heard.
Research has failed to show any terrorist connections for Andreas Lubitz says Robin. French news is now analyzing possible reasons for this act by Lubitz, pictured here in front of Golden Gate bridge on mid-day news from BFMTV: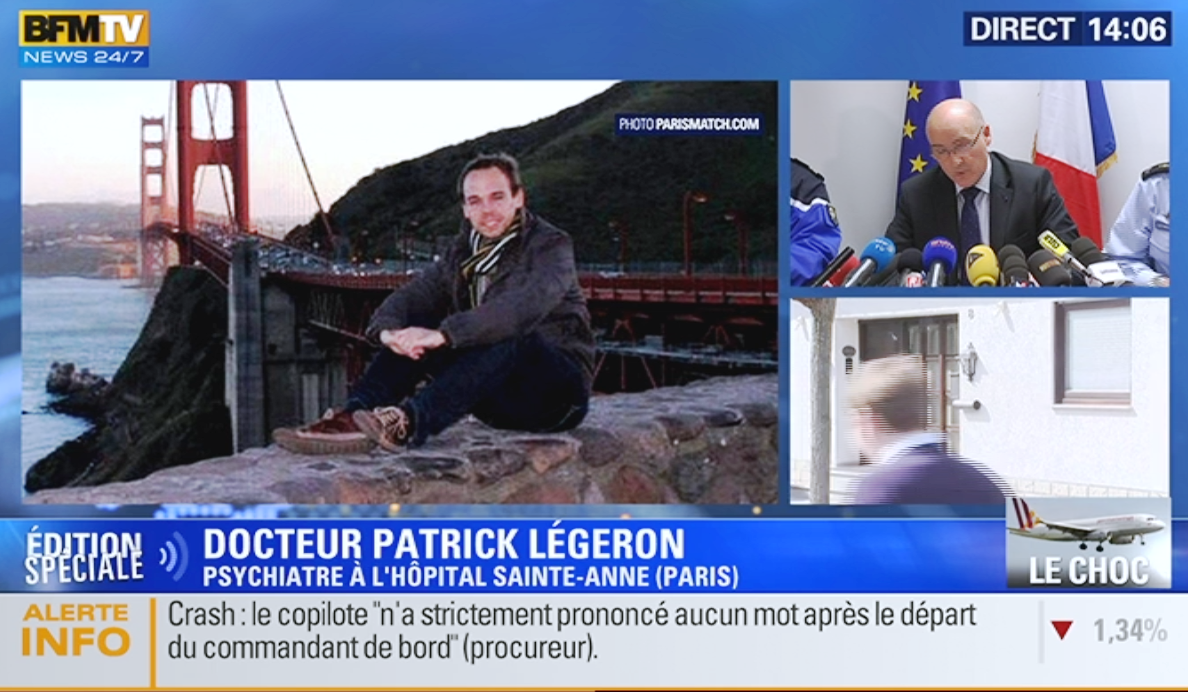 Lufthansa/Germanwings had a press conference at 14.00 CET which we followed, here the key points:
Lufthansa CEO Carsten Spohr  opened with "This is the worst that has happened in the 60 years history of Lufthansa".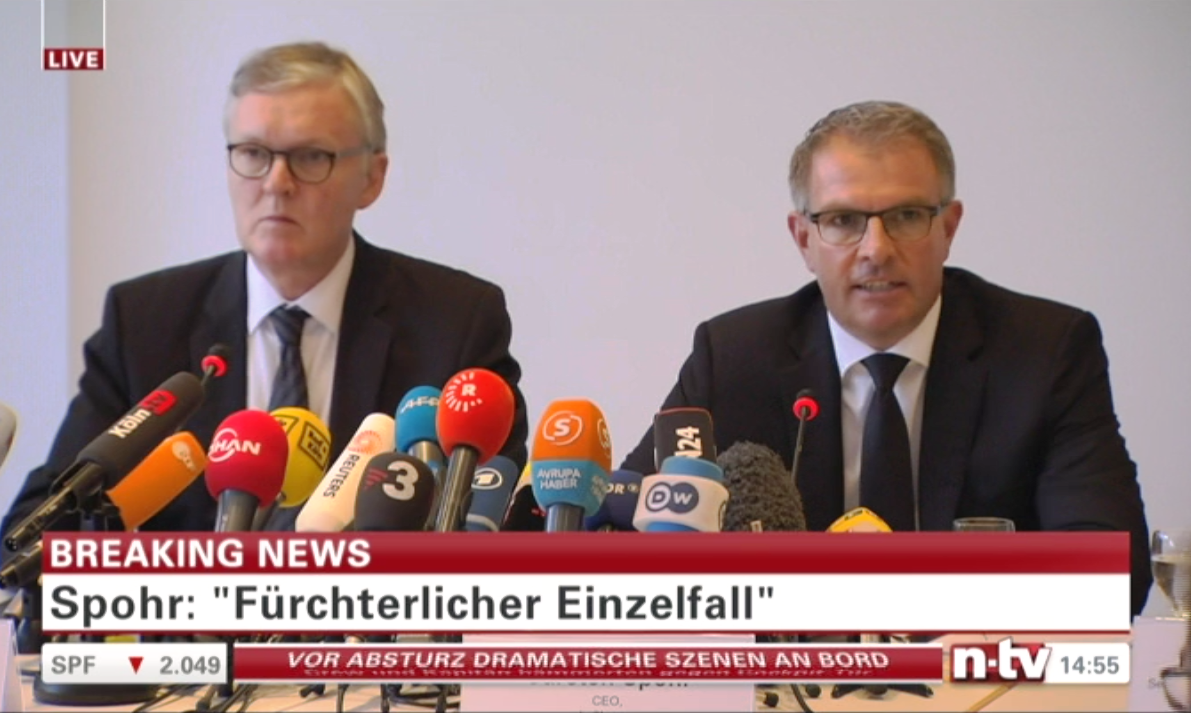 He then continued that he and his colleagues could hardly believe what they were told when they got briefed on what was on the recording and its consequences. He pointed out that Lufthansa sees this as a "tragical act of one person" and does not have any information that it is an act of terrorists or a group of people.
The co-pilot started his training at Lufhansas Pilot school in Bremen 2008 where he also made a break in the training in 2009. He finished his traning in 2011 and was then active as cabin personnel for 11 months before there was place for him in the pilots group. He was hired by Germanwings in September 2013 as pilot where he did type-training on A320. He did have an out also during this phase but returned to the training and was seen fit for the job as a First Officer in Lufthansa group. His suitability as a pilot was at all times without any doubt said Spohr.
There were many questions from the media re the psychological stability of Lubitz and if any personality checks are part of Lufthansa/Germanwing pilot procedures. Spohr answered that there are yearly medical checks and continuous valuation of their First Officers as commanders of an aircraft as they shall at all times be prepared to substitute for an incapacitated captain but there are no psychological checks required by the authorities and Lufthansa does not have them.
There were also questions around the outs by Lubitz. Spohr said the medical confidentiality is also valid for Lufthansa pilots and that no one in the company, also not he, has insight into the medical files of Lubitz. It is now a question for the criminal investigation to request this data and look into what it can reveal. There were no signs of any personal irregularities during his work for Lufthansa according to Spohr.
Breaking news says that friends to Lubitz talk of a burnout during his pilot training as reason for his break.
The families of the victims and flight crew was informed today before Lufthansa's press conference by our personnel "as I and Winkelmann (CEO of Germanwings) had to be here. We met with the families yesterday in Dusseldorf and Barcelona but we did not have this information then.
Spohr could also answer why no-one could enter the cockpit. "Since 9/11 we have armored our cockpit doors so that not even small arms fire can penetrate them". "If a pilot would be incapacitated while being alone in the cockpit the other pilot and the cabin crews has a code that can open the door if this is not blocked from the cockpit. At each request with the code to enter there is a tone in the cockpit, if the person in cockpit then press "Lock" on the door control panel he can block the entrance for 5 minutes."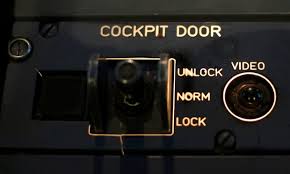 This then repeats as we understand it so that the co-pilot can block the entrance to the cockpit as long as he waits for this signal and press Lock, the door is then blocked for another 5 minutes.
Spohr said they have no reason to change the rule that pilots could be left alone in the cockpits as Lufthansa sees this as a tragical "one time event" but what happened will of course be discussed with the pilots union and other parts of the company. He had had a long conversation with the head of the pilots union before the press conference he said.
He finished by pointing out that flight safety is the top priority of Lufthansa group and will continue to be. The further investigation of what happened is now in the hands of the criminal authorities.
German experts commented after the press conference that this and other recent events like MH370 will be as significant as 9/11 in changing the way that civil airlines operate. Before it has been a question of protecting passengers and flight crew from terrorists and hijackers, now it will be a question how one can protect the passengers from ill-willed flight crew members as well.
After the press conference Norwegian has let know they will change the cockpit rules to that of US airlines, i.e. pilots are not left alone in the cockpit when e.g. a pilot needs to go to the lavatory, a cabin crew will take his place. Ryanair has informed they already practice this rule.